The annual Matariki Festival  is returning to the inner-city for 2019.
The festival and market has been a popular event on the city's calendar for two years, and City Centre Co-ordinator Shru Shrivastava is excited to be bringing it back once more.
This year's Matariki Festival and Market will be on Saturday, 29 June, between 10am and 4pm, in Esk Street.
As in previous years, craft workshops and activities will be offered. A variety of food is planned, and of course there will be plenty of  entertainment throughout the day.
Applications for stall holders or food trucks and vendors which would like to be part of the festival are available here.
Please note, there will be limited space available so make sure you get your application in ASAP.
Stall holders are welcome to bring their own gazebo, but please ensure these are safe for use and appropriately weighted down. Let Shru know if you intend to bring a gazebo so we can make sure we allocate you a suitable space."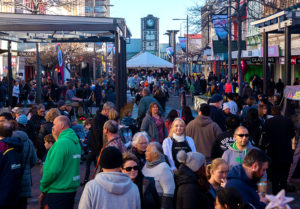 Entertainers who would like to get involved should contact Shru via email – shru.shrivastava@icc.govt.nz
Keep an eye on Council publications, its website, and Facebook page for more announcements and information as it comes available.
Tickets
Free admission, all age groups are welcome