Prices
A Reserve: adult $130
B Reserve: adult $110
Plus service fees, credit card fee s and method of delivery fees
Booking
Visit the ICC Booking Office, 101 Esk Street, Invercargill, phone (03) 211 1692 or online with TicketDirect
After 2017's hugely successful Animals tour, which featured three entire albums, The Pink Floyd Experience returns with an exciting new show.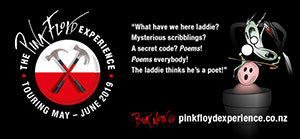 To celebrate the 40th Anniversary of Pink Floyd's album The Wall, a selection of the band's own favourites will complement a spectacular and fitting tribute to this Pink Floyd masterpiece.
With the expectation on the band and their technical crew to exceed 2017's Animals show is high, many months have been spent on creative design and authentically replicating the music in meticulous detail.
Once again The Pink Floyd Experience is determined to deliver another world-class performance creatively and imaginatively while staying 100% true to the essence and authenticity of Pink Floyd's music.
Twenty-three years and still going strong: they must be doing something right! Don't miss out!
Notes
1. Enquiries? Contact the ICC Booking Office, 101 Esk Street, Invercargill, phone (03) 211 1692.
2. There is no concession pricing for this event.
3. Show running time: about 3 hours
IMPORTANT
Tickets to all events at the Civic Theatre must be purchased from TicketDirect or an affiliated local agency. Tickets purchased through a third party or unauthorised seller will result in your tickets being void and your access into the event being restricted.