Robin Pagan, the Invercargill City Council Parks Manager, received the New Zealand Recreation Association Fellowship Award at the association's recent annual conference in Wellington. The NZRA award is granted to members who have made an outstanding and sustained contribution to the purpose, aims and work of the association.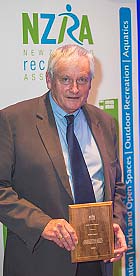 Mr Pagan (pictured) is widely respected in the community and by nurseries and garden clubs for advice on practical planting and landscaping. He will mark 50 years continuous service with the Council's Parks Division in January 2016 – including 23 years as Parks Manager. He has contributed to many landmark projects including:
Achieving and retaining the New Zealand Gardens Trust 'Garden 

of National Significance' 5 stars for Queens Park since 2006

Development of the Jessie Calder Gardens, Queens Park (1989)
Development of Japanese Gardens, Queens Park (1997)
Redevelopment of Queens Park Aviary (1998)
Travelled to the Sub-Antarctic Islands to gather species for development of the Sub-Antarctic Island Gardens (2004)
Development of a Victorian Stumpery, Queens Park (2012).
Thanks to Mr Pagan's management, Parks won the Environmental Innovator Award for Sustainable Energy Use after installing a wood chip boiler ( which is fuelled by Parks-generated wood waste) at the Parks nursery. (Southland Environment Awards 2011).
He has been a member of the NZRA since 1997 and a member of its predecessor, the Parks and Recreation Administration, since the 1970s.