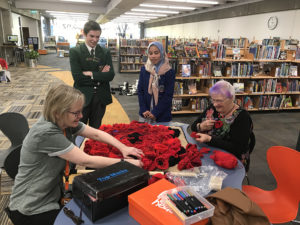 Invercargill residents created more than 30 hand-made poppies to add to a special banner being flown around the country to commemorate ANZAC Day.
A national fundraiser, The Poppy Flight aimed to bring together remembrance and hope for the future, with proceeds going to the RSA and the Starship Foundation.
More than 30 volunteer pilots throughout the country have flown on different routes, taking the artworks to each location to have more poppies added.
The members of the Invercargill City Youth Council's Poppy Flight Committee welcomed Poppy Flight pilot Ben Morrison. Committee member Libby Haywood explains:
Though the flight from Dunedin had been delayed, Ben arrived in a Tiger Moth safe and well.  
The ICYC's Poppy Flight Committee welcomed him with the Council waiata, and His Worship the Mayor Sir Tim Shadbolt sang his own waiata after.
We all thanked Ben and took a sneak peek of the knitted projects that are being passed along for the relay. 
On the same day, there was a knitting and crocheting workshop happening in the library for the knitters to attach their handmade poppies onto the canvases provided where two of our young people helped as well.