Visitors to Russell Square can now enjoy a family barbecue, thanks to an initiative from the Rotary Club of Invercargill South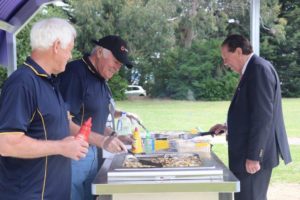 and Invercargill City Council.
To mark its 50th anniversary, the Rotary Club of Invercargill South has provided an electric barbecue, which can be used by park visitors free-of-charge, while Council provided a shelter offering shade or protection from wind and rain.
Club past president Ron Taylor said many local businesses and club volunteers worked together to make the project happen.
"This barbecue is a wonderful asset for South Invercargill and the Russell Square area," Mr Taylor said.
"Judging by the feedback we have had so far, I am sure it will get lots of use, especially during the summer months with our lovely long twilight evenings."
Council's Acting Parks Manager Michele Frey said Council appreciated the opportunity to work with the Rotary Club of Invercargill South on the community project.
"The two new double burner barbeques will be fantastic for families and social gatherings. It adds another attraction for families at the playground," Ms Frey said.
It is the first public electric barbeque in the city, and will be managed and maintained by the Invercargill City Council.
People using the barbecue are asked to use the 'Share with Care' code:
Clean barbecue plate after use ready for the next user.
Dispose of your rubbish in the bin provided.
Limit your time on the barbeques to allow access for others.
Supervise children in the area as hot plates will remain hot after use.