The use of  domestic garden hoses will be banned in Invercargill and Bluff from Sunday, 28 January 2018 because of extreme low flows in the Oreti River.
The new restrictions impose a complete ban on all domestic outside water use. This means that even the use of a watering can or hand-held hose, which waspermitted under the restrictions imposed earlier, will be prohibited from Sunday.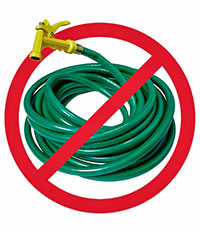 Invercargill City Council Water Manager Alister Murray said because of the continuing dry weather the Oreti River flows had continued to fall, and were forecast to fall even further.
"At this stage it seems inevitable that the Oreti flow as measured at the Riverton Highway bridge will fall to 3.2 cubic metres per second during the next few days," Mr Murray said. Under the Council's permit to draw water from the Oreti River, the Council is obliged to apply these restrictions when it drops to that flow rate.
He asked residents to be increasingly aware and to ensure that household taps were not left on longer than was necessary.
Further, if residents noticed others breaching the new restrictions, Mr Murray asked they report the breach to Council's water team on (03) 211 1679. Council staff or a contractor would be enforcing the restrictions.
FAQ: frequently asked questions about the water restrictions.
Visit this page for tips on conserving household water
FIRE WARNING: Fire Emergency NZ's Southern District warned today that the fire danger level is likely to very high on Wednesday, 31 January and Thursday, 1 February. "Even activities such as lawn-mowing will be a risky activity," a spokeswoman said.