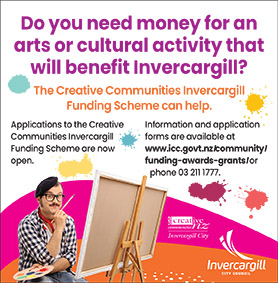 The Creative Communities Scheme (CCS) is for arts and cultural projects and is administered by the Council on behalf of Creative New Zealand.
Closing dates for the 2021/2022 financial year are:
Thursday 30 September 2021
Thursday 25 November 2021
Thursday 24 February 2022
Thursday 26 May 2022
Learn more
Learn more about getting Creative Communities funding for local art projects:
Apply now!
Download an application form
Download a Creative Communities Application Form
First time applying?
Refer to the Creative Communities – Application Guide when filling in your application.
Completed your project?
Refer to the Creative Communities – Project Completion Report template 2021–2022 in writing your post-project report.
Successful Grants
Find a list of the the successful community grant requests below:
Creative Communities Grants Allocated for the 2020–2021 Financial Year