Southland is getting two Gallipoli pine seedlings grown by New Zealand scientists, the Southland Express reports.
About 50 seedlings have been raised at the Scion Crown Research Agency in Rotorua and made available to RSAs nationwide to commemorate this year's centenary of the World War 1 Gallipoli landings.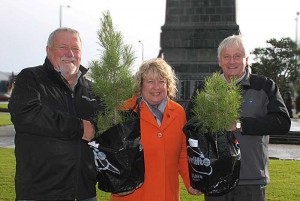 They were grown from the Turkish red pine (Pinus brutia) at Paeroa Golf Course, the only authenticated New Zealand descendant of the original Gallipoli Peninsula Lone Pine.
One of the two Southland  trees will be planted on April 24 near the Invercargill Cenotaph and the other will be planted in Edendale.
Invercargill City Council parks and reserves manager Robin Pagan said the Invercargill seedling would be planted in a protected area until it grew larger.
While Turkish red pines had not been grown in the city before, he expected the tree to do well.
Full report: Online at this site or see the Southland Express of 16 April 2015