Get Ready Week is held every year to mark the International Day for Natural Disaster Reduction (13 October). This year Get Ready Week starts on Monday, 9 October; the theme is Stay Safe, Stay Informed.
The Ministry of Civil Defence & Emergency Management notes that emergencies can happen anywhere, any time, and without warning. "Make sure you and the people you care about are ready to get through by knowing the different ways to stay informed, it says.
During the week the Ministry will be promoting the different ways people can stay informed during an emergency – which radio stations to listen to, which website and social media to follow, the importance of getting to know your neighbours and checking if you can receive Emergency Mobile Alerts.
Print this poster for a snapshot of what you need to know (2.3MB pdf)
Radio
If the electricity supply fails, a solar or battery powered radio (or your car radio) can help you keep up to date with the latest news. This page of the Civil Defence Southland website contains links and frequencies of the stations.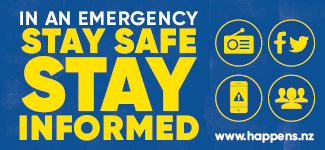 The page also contains links for MetService forecasts, Environment Southland's uo-to-date rainfall and river flow data, the PowerNet website for updates about power supply outages, the Earthquake Commission's fact sheet for information on EQC's role in providing natural disaster insurance for homes, land and contents, New Zealand Transport Agency road warnings and closures, the Automobile Association Traveller for current traffic information, and GeoNet for the latest earthquake information.
Southland Text Alerting Service
If an event or incident happens in Southland we can text alerts and warnings to you. These text messages may contain warning information or instructions for what to do during an event. To register for this service, text 'start' to 219 on your mobile. That text will cost 20c, but all warning texts that we send will be free. If you wish to unsubscribe to the alerts, text 'stop' to 219 on your mobile.
Note: Civil Defence Southland no longer uses sirens for alerting purposes.