The Bluff Community Board and Invercargill City Council are welcoming an announcement today by Tourism Minister Kelvin Davis that the Government will provide $25,000 towards a $50,000 feasibility study for Stirling Point in Bluff.
Stirling Point is the location of the iconic Bluff signpost and marks the end of State Highway 1, which attracts an ever-increasing number of tourists.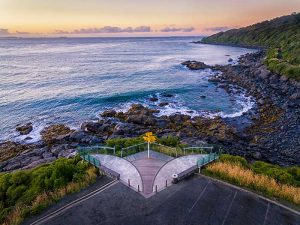 Bluff Community Board Chairman, Raymond Fife said the funding announcement was "positive news".
"Council and the Bluff community have identified through meetings with community stakeholders that key infrastructure at Stirling Point is not coping well with the increase in visitors.
"It is a complex area, with car-parking being a high priority. We also need to ensure people are safe when accessing the many DOC tracks, visiting the chain link sculpture or getting their photograph taken in front of the signpost. The Te Araroa national walking trail also begins and finishes its journey at Stirling Point," he said.
Council's Roading Manager, Russell Pearson, said the funding from the Ministry of Business, Innovation and Employment's Tourism Infrastructure Fund would be spent on a feasibility study to identify the needs of Stirling Point, so that the future demands from the growth in visitors could be planned for.
Mr Pearson said Bluff was experiencing consistent growth in road traffic each year. From 2013 to 2017 annual traffic in the town had increased by 37% and more growth was expected in future.
"The current infrastructure at Stirling Point barely meets current visitor demand, with limited parking close to visitor activities. The area is experiencing increased periods of visitor saturation, which is creating safety concerns. While to date the situation is being managed, finding a solution to these issues has become a priority.
"The Feasibility Study would provide a basis for building robust plan for Stirling Point, which could then be consulted on," Mr Pearson said.