Heritage gives us a sense of who we are and where we have come from. How we manage our heritage resources reflects how we value and identify with our history.
Invercargill's heritage can be seen in our buildings, our landscapes, our waterways, our monuments, our parks and our collections and artefacts. Our heritage is well worth acknowledging, celebrating and protecting.
Heritage Façade Light Show 2021
Public Trust Building (28 Don Street)
Constructed in 1921 and designed by CJ Brodrick & TP Royds in a low-key Art Nouveau style, the Public Trust Building is rumoured to be the first building in Invercargill to be constructed entirely of reinforced concrete. People often comment that the unique cast iron entrance canopy is particularly lovely.
Tillermans (14 Don Street)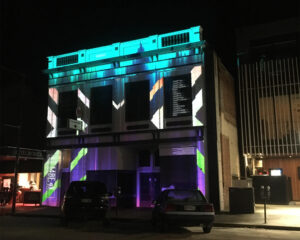 Since the late 1800s this two-storied Victorian building at 14 Don Street has seen many lives; it has, amongst other things, been a blacksmith shop, part of William Todd & Co. Ltd Auctioneers, a billiard rooms, and the Sponge Kitchen.
Invercargill Club (32 Don Street)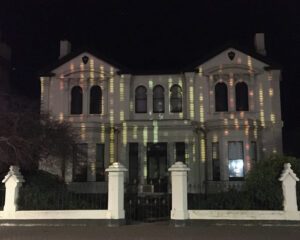 Wow, the Invercargill Club has served its members from this building since its opening in 1892! Designed by Charles Gilbertson, it is a provincial example of exclusive men-only clubs that provided 'a means of establishing gentlemanly status' and a network of connections among like-minded gentlemen in nineteenth century New Zealand. Gentlemen's Clubs were essentially surrogate homes providing privacy in an era where interactions in the home were tightly prescribed by etiquette.
2019 Invercargill City Centre Heritage Strategy
The Heritage Strategy will help guide future City Centre heritage decisions and initiatives. It was drafted in consultation with Heritage New Zealand Pouhere Taonga, local heritage trusts and interest groups, and heritage property owners.
Click here for more information
City Centre Heritage Area
Within the City Centre Heritage Area there are over 80 buildings with recognised heritage value: 22 have been registered by Heritage New Zealand Pouhere Taonga, 64 are considered locally significant, and respective portions of Tay and Dee streets are recognised for their high streetscape value.
Click here for more information
Owning a Heritage Building
Information on what you need to know as the owner of a heritage building in Invercargill, such as consenting, maintenance and best practice guidelines.
Click here for more information
Approved Heritage Colour Palette
It is recommended that paint colours of heritage buildings are to be in keeping with the era of the building and within the approved palette.
Click here for more information
Useful links
ICC Earthquake-Prone Buildings
Heritage New Zealand Pouhere Taonga
International Council on Monuments and Sites: ICOMOS is an international non-governmental organisation of heritage professionals dedicated to the conservation of the world's historic monuments and sites.