HWCP Management Ltd's plans for the inner city redevelopment were made public in Invercargill yesterday (18 June 2018).
On Friday, 22 June 2018, HWCP will open a pop-up shop on Esk Street (the former New Zealand Natural icecream and kebabs cafe) where members of the public can see the development plans. The pop-up shop will be open seven days a week.
A website – hwcp.nz – has been launched; it includes a slideshow of planning images.
Features of the redevelopment being looked at by HWCP are:
Esk Street entrance to food precinct – click the image for a larger version.

A covered carpark for 1000 cars. Split over four levels, the top level of the carpark will be able to be used for events such as farmers, markets and car shows.

A boutique eatery combining a range of cuisines and businesses. The dining area will be a communal wide, open space with a variety of seating options. Split over two levels, there will be both indoor and outdoor dining space, opening out north-facing to Esk Street.
Retail shops, ranging from a large anchor retailer to small boutique stores.
Open-air laneways that connect the food and retail precincts to the offices and medical centre.
A central medical centre with scope to include an ambulance bay.
An outdoor courtyard for working professionals and families, providing a space for people to enjoy lunch outside.
Offices and apartments overlooking the Invercargill CBD.
"This is a project that has been near and dear to so many hearts for such a long time," HWCP Chairman Scott O'Donnell said. " We're excited to finally be in a position where we're able to share that vision with everyone."
He was joined by other members of the team to present architectural renderings of the $160 million project.
"Invercargill's long-term outlook is very much on the table here and we think this redevelopment absolutely places it in an upward trajectory."
The plans also incorporate the existing Kelvin Hotel, former Bank of New South Wales building and Reading Cinemas complex.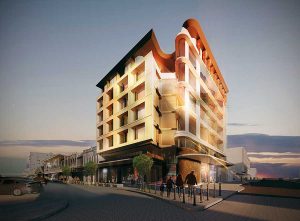 Architects Buchan Group provided a video fly-through of the plans, revealing design considerations that were sympathetic to Invercargill's existing heritage buildings.
Buchan Group Senior Associate James Burgess said his team was acutely aware of the city's strong connection to its heritage buildings and wanted to convey a look that supported those structures.
"The design enhances what's already there – we wanted to complement and respond to the existing city grain," he said. "With the necessity of having to bring down some of the unsafe buildings in the block, we wanted to pay homage to the city's heritage and history."
The project is expected to generate 400 jobs per year during its construction phase and once open, foot traffic will be significantly increased.
"For the entirety of this project, we want to use as much local labour and services as we possibly can. There is, unfortunately, a shortage of skills in some areas we need so in those situations we've had to go outside of Southland," Mr O'Donnell said.
"However, HWCP has made it a requirement for these businesses to set up an office in Invercargill and bring their team down here or employ local labour on their behalf."
Resource consent is expected to be lodged by the end of July, with demolition commencing late 2018 or early 2019.
Invercargill City Council-appointed HWCP director Lindsay Thomas said the redevelopment provided a pathway for strong economic growth in Southland. "The inner-city redevelopment brings about so many positive economic factors for Invercargill and as a region, this is exactly what we need," he said.
Related documents:
Key facts about the redevelopment
HWCP purchases city properties (2017 news item)