The Invercargill City Council has appointed Clare Hadley as its new Chief Executive, Mayor Tim Shadbolt announced today.
Mrs Hadley has previously held the position of Chief Executive at Nelson City Council and Rangitikei District Council, and has served as President of the Society of Local Government Managers (SOLGM).
She replaces Richard King, who is retiring after 31 years' service as Chief Executive at ICC.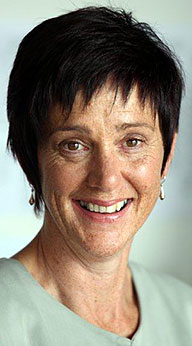 Mr Shadbolt said that Mrs Hadley's appointment was the result of a thorough and robust recruitment process.
"She has a reputation for building capable and cohesive leadership teams, and her combination of experience and passion for progress are what we need to take Invercargill forward," he said.
"Political commentators agree that the single most important relationship in Local Government is that which develops between the Chief Executive and the Mayor.  I believe Clare will appreciate the stability of Invercargill.
"As a result we have achieved a Civic Theatre upgrade, Splash Palace, two stadiums, a Velodrome, Rugby Park, an inner city upgrade, a new airport, Zero Fees, a water purification system, three feature length films, major events such as the World Shearing Championships, a Joseph Parker fight, the Ranfurly Shield, numerous Netball Championships, several Bluff Oyster Festivals, Burt Munro Challenges, the Southern Scenic Route and the America's Cup campaign.
"Invercargill has been transformed from a struggling city to a dynamic, innovative, progressive capital city of Southland, with a 2.7% growth in population.
"I'm looking forward to achieving similar results in partnership with Clare," Mr Shadbolt said.
Mrs Hadley said "the challenges of Invercargill City Council excite and motivate me." She is looking forward to moving to Invercargill and becoming part of a community she believes to be 'warm-hearted'.
Background
Originally from Otago, Mrs Hadley attended boarding school in Dunedin, finishing schooling in Oamaru.
Starting in local government at Dunedin City Council around the time of the local government reforms of 1989, she left Dunedin in 1995 to pursue a business opportunity with her husband in the Wellington region.  While in Wellington she worked at Porirua City Council and then Hutt City Council.
Her first experience of senior management in local government was with Palmerston North City Council in 2002.   Initially responsible for all strategic planning and contract management of council controlled organisations and agencies, the role expanded to also manage Council's commercial activities.
In 2007 Mrs Hadley was appointed as Chief Executive of Rangitikei District Council, and led significant change in that organisation.  She developed an HR strategy, the Rangitikei Road Trip, and the organisation attained bronze accreditation in the Investors in People programme. A focus on shared services with neighbouring authorities created better delivery of services to the community.
In 2012, she was appointed to Nelson City Council as Chief Executive.  There she led the redevelopment of the Trafalgar Centre and Rutherford Park; gained agreement on a joint regional landfill with neighbouring Tasman District Council; and introduced two significant, community supported projects around biodiversity and water quality.
Mrs Hadley was President of the Society of Local Government Managers 2010-12, and a Board member of Business Central (previously the Employers & Manufacturers' Association) 2008-12.  More recently, she has chaired a collaboration of 24 councils working on an online building consent portal.
In her spare time, she likes to be on two wheels – road cycling, mountain biking or riding pillion on her husband's motorbike – or working on her bridge game.
Clare Hadley will start work on Monday, 19 March, which will be a handover week with outgoing Chief Executive Richard King.