The creative team at Invercargill City Libraries and Archives has won second place in an international competition.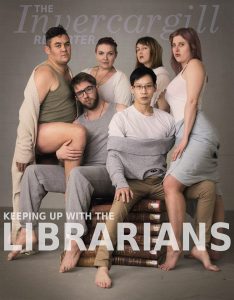 The accolade comes from the 2018 International Federation of Library Associations and Institutions BibLibre International Marketing Awards for the library's "Keeping up with the Librarians" post on social media.
The team recreated a famous Kardashian image to connect with a wider audience, particularly younger generations.
The goal was to create a sense of relevance for libraries in the digital age. The image reached more than 1 million Facebook users, and received 12,000 reactions and 5,400 shares. National and international media picked up on the image, and our librarians were featured on television and in publications around the world.
This award means the team will receive 1000 Euros, as well as travel and accommodation for an IFLA event in Kuala Lumpur.
Libraries and Archives Manager Marianne Foster said the award was the result of an outstanding effort by the Invercargill team on the international stage.
"We are a small library with big ideas and awesome staff who can make things happen," she said.
The library's Digital and Communications Manager Bonnie Mager said the team's creative process was all about having fun.
"Once a week we sit down, and throw ideas at each other. We laugh a lot and all participate equally and that's why we think we get such great results. It's all about teamwork."
"Our goals are to remind people that libraries are not dead. There is so much our library can provide for a community and each day our staff do amazing things.
"We hope that after seeing our videos on social media people take the time to remember us next time they want to read a book, rent a DVD or attend a free event," Miss Mager said.
IFLA is the leading international organization representing libraries and their users. It has more than 1400 members in more than 140 countries.