It is said almost everyone knows someone who has been affected by cancer, and at the Invercargill City Council, it is no different. That's why four Council staff members will be shaving their heads to raise money and awareness for the Cancer Society's Relay for Life, to be held in March.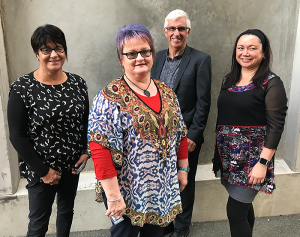 Environmental Health Manager John Youngson, Senior Environmental Health Officer Ann Thompson and team  Administrators Barbara Grieve and Ronnie McCort will lose their locks on Wednesday, March 7, as part of the Shear the Hair 4 Cancer event.
Office Administrator Ronnie McCort said she planned the event to support a worthy cause. Four hairdressers have also volunteered their time, so no one will be able to back out at the last minute as they'll be getting their hair cuts at the same time, she said.
The hairdressers are Bliss Harper-Dillon, of Dimensions Hair Studio, Serina Pollard, of Spectrim Hair Design, and Gemma Corkery and Cheryl Coote of Revolution Hair & Beauty.
All proceeds from the event will go to the Cancer Society, as part of the wider fundraising efforts by Invercargill City Council staff participating in the Relay for Life.
More than $1000 has already been raised by the ICC team.
To donate to Shear the Hair 4 Cancer, or to members of the ICC Relay for Life team, visit: Here