The Invercargill City Council will be the new naming rights sponsor for the popular Surf to City event in a further boost to its healthy, family-friendly reputation.
Invercargill Deputy Mayor and Events Committee member Darren Ludlow said he had suggested the Council support Sport Southland's annual mass participation fun run from Oreti Beach to Queens Park as it was the "perfect fit".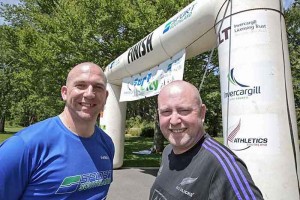 The 12km Surf to City has a long history and attracts as many as 4000 runners, walkers and cyclists of all abilities.
"The event starts from Invercargill's Oreti Beach and finishes in the heart of our premier park, Queens Park," Cr Ludlow said. "It is a 'family-friendly' event, with people of all ages and capabilities taking part and is in-keeping with the Healthy Families Invercargill initiatives, where Council is a partner."
Sport Southland is the lead provider for Healthy Families Invercargill, the Government's initiative in the fight to slow the rate of preventable chronic diseases like Type 2 Diabetes and cardiovascular disease.
Cr Ludlow, who is also a member of the Healthy Families Invercargill governance group, said the Surf to City event reflected many of the Council's ideals. "It also shows Council's commitment to the health and well-being of our community by sponsoring Southland's largest participation-based event. Plus it also showcases that Invercargill is a vibrant, active, innovative, healthy and family-friendly place to live," he said.
The Council is already an active supporter of the Surf to City, with a large contingent taking part in this year's event and even more planning to be involved in 2016.
Sport Southland chief executive Brendon McDermott said the organisation was delighted to further strengthen its partnership with the Invercargill City Council.
"It's a logical fit. We are already working together in the areas of family-friendly, Healthy Families Invercargill and the Council is one of the largest providers of sporting recreational facilities in the region – so to have them sponsor our flagship event makes sense," Mr McDermott said. "Now that we have partnered with the Council, we are working together to find ways to encourage even more participants to take part in this very popular event."
The ICC's Events Committee will provide $20,000 from its Events Fund towards the Surf to City, which will be held on Sunday, 13 March 2016. Entries for the event will open before Christmas.