On 15 August 1947 India gained its independence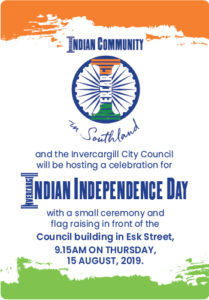 and has been the largest democracy in the world ever since.
The Indian Community in Southland with Invercargill City Council is celebrating Indian Independence day on 15 August 2019 at 9.15am in front of the City Council Building.
The event will be attended by His Worship Sir Tim Shadbolt who will raise the Indian flag, followed by an Indian National Anthem and a talk on History of Indian Independence Day.