Keep up to date with Invercargill City Council's road works and infrastructure projects here.
You can also follow Invercargill Word on the Street on Facebook to get information on road closures and more straight to your newsfeed.
June 2021
Stead Street stopbank works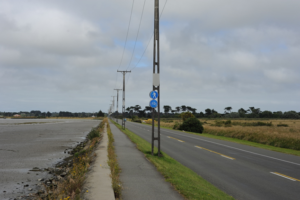 Rock revetment works (placing rock reinforcement around the Waihopai Bridge on Stead St) are set to continue for approximately 10 days, from 2 June 2021
The works site (and traffic management around it) will be in place from west of Stead/Tweed/Bond St roundabout, over Stead St Waihopai River Bridge through to approximately 500m west of Airport Ave along Stead St ("Airport straight").
The works site and traffic management will be in place between 9am to 3pm Monday to Friday, and if required, between 6pm to 12pm weeknights.
There will be/are pedestrian/cycle/accessible alternative connections made to the unaffected portions of the Stead St footpath around the works site, during the works periods.
Outside of those work hours, normal traffic flow and pedestrian/cycle access will be available.
April 2021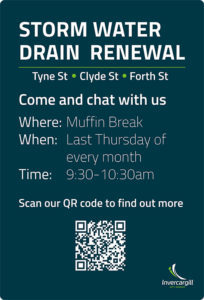 Tyne, Clyde and Forth Street Stormwater Renewal
Work will be undertaken to replace some of the original hand laid brick pipes.
This work will ensure critical infrastructure keeps working and provide flood protection.
The project will be in three phases and is expected to take until November 2021 to complete.
There will be some road closures in place at the intersection of Nith Street and Tyne Street for up to two weeks.
The works will then progress west on Tyne Street towards Clyde Street.
February 2021
SH1 Elles Road Intersection improvements project
To construct a roundabout to improve safety and reduce the number of crashes at the SH1 Elles Road intersection.

Click here for the latest NZTA information
November 2020
Tweed Street roadworks
Road works on Tweed Street (between Highfield Terrace and Inglewood Road) are set to begin the week of  November 9.
This work involves installing a new water main, replacing the footpath and kerbing and rehabilitating the road on the northern side of the street.
Over the coming months there will be various site layouts depending on which phase of the works the contractor is in.
Please drive safely and be mindful of all others.
October 2020
Sewer works to get underway
Please be aware works on Duke Street (between Grey Street and Queens Drive) are se to begin Tuesday, 27 October.
During the work, there will be some traffic disruption in the area, particularly for those around the Less Street Kindergarten, and the Waihopai Tennis Club and Waihopai Bowling Club.
This work involves replacing the existing foul sewer pipes, which were originally installed in the 1950s.
Please drive safely and m]be mindful of others
September 2020
Hargest Area Watermain Renewal
Work has begun to replace more than 1200 metres of old asbestos cement watermains in the Hargest area.
Contractors will start on Fern and Rowan Streets, before moving onto Talbot Street, Talbot Place, Roseburn Place, and Glenbrae Place.
The work is expected to take until the end of the year to complete.
There won't be any full road closures, but there may be some disruptions to traffic flow and access to properties at times.
Please take care to pay attention to traffic management signs.
While there is a possibility of disruption to the water supply at times, this should be kept to a minimum.
Work recommences on Rockdale Road / Tweed Street roundabout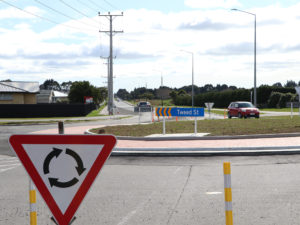 Work on the Rockdale Road / Tweed Street roundabout is expected to recommence the week of Monday, 21 September. The work is expected to take about 6 weeks, during which time there may be disruptions to traffic.
Work on the roundabout began earlier in the year, however delays due to COVID-19 meant it could not be completed on schedule, with the colder weather resulting in ground temperatures too low for laying asphalt and road sealing. The decision was made to patch the roundabout temporarily until conditions were appropriate to continue.
With temperatures now suitable for this work to start up once more, further improvements to the roundabout design will be made. This includes adjusting kerb heights to ensure the roundabout operates best for all types of vehicles.
August 2020
Foul sewer renewal for Layard Street – western end
Foul sewer renewal works on Layard Street between Queens Drive and Waihopai Street are expected to start Monday, 10 August.
ICC has brought forward the replacement of this asset due to the high level of deterioration of the main, which was installed in the 1960s.
During the work, there will be some traffic disruption around the James Hargest Junior Campus area.
Please drive safely and comply with signage onsite.
July 2020
Kerb and channel and footpath renewal update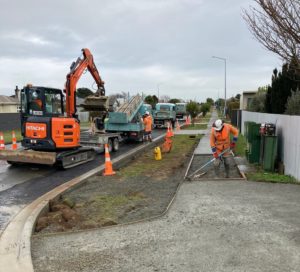 Our maintenance contractor has been busy despite the wintry weather, completing plenty of footpath and kerb renewals!
Since lockdown, the following areas have been completed:
Roy Street
Raymond Street
Rugby Street
Short Street
Pomona Street
Teviot Sreet
Bamborough Street
Morton Street
Medway Street and Banks Street are expected to be completed by the end of July, while the larger sites, including Martin Street and St Andrew Street, are likely to continue into August.
Next up for renewal works during the next 3-6 months are:
Two more parts of St Andrew Street
Eye Street
Ness Street
East Road
Racecourse Road
Crawford Street
Lorn Street
Please take care when driving in these areas, and be mindful of our contractors working hard to improve the streets for everyone!
June 2020
Esk Street and Deveron Street stormwater renewal works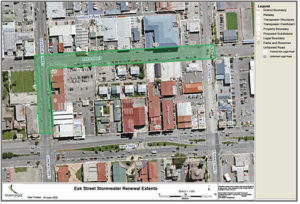 To allow necessary stormwater renewal works to progress, from Monday 22 June, the intersection of Jed Street and Esk Street will be closed to northbound and southbound traffic.
Detours will be in place. Please see the following PDF's for temporary traffic management plans:
TMP diagram 1
TMP diagram 2
TMP diagram 3
Following the reopening of the Jed/Esk intersection the works will progress west on Esk Street to the Deveron/Esk Intersection. The east bound lane on Esk street between Deveron St and Jed St will be closed until at least the end of July.
Access for all businesses, residents and car parks on this block will be maintained where possible for the duration of the works.
On street carparking will be limited during the works.
We encourage you to continue providing support to these businesses.
Elles road water supply main renewal
Fulton Hogan has been contracted to start work on the Elles Road water supply main renewal starting on Monday 15 June.
The work for the renewal / installation of a new 355 diameter water supply main will take place between between O'Hara Street and Kew Road.
Residents driveway access on the western side of Elles Road will be affected.
To keep disruption to a minimum the contractor will work in 150 metre stretches, starting from O'Hara working south installing and reinstating before moving on to a new section of pipe installation.
The road for south bound traffic will stay open for normal traffic flow, north bound will be closed on Elles Road.
Entry into Kew Road from Elles Road will stay open for traffic.
The bus route that runs down Ness Street, into Kew Road, and down Elles Road will be affected during the second half of the project, posters will be on display at bus stops with a location plan for the temporary bus stop.
Detours will be in place during the project, with Ness Road being the alternative for north bound traffic during this time.
It is estimated the works will be completed at the end of July.
March 2020
Disappointing dumping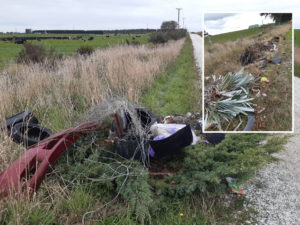 Council's Compliance and Roading teams are disappointed to note there has been an increase in illegal dumping of rubbish around town, particularly along gravel roads and near the beach.
We encourage all members of the public to report this activity – if they spot someone who they think might be illegally dumping rubbish, they're encouraged to try to note down a number plate and description and call us immediately.
If they've noticed dumped rubbish on the roadside, they should also call us, as our Compliance team can sometimes identify the culprits based on the material being dumped.
Staff are then able to arrange for the rubbish to be removed, and issue infringements.
February 2020
Victoria Ave to close from 17 February
Kiwi Rail have requested a road closure of Victoria Avenue between Arena Avenue to Leven Street (at the rail crossing)  from 7am on Monday 17 February for approximately 6 days.
This will impact all vehicles and pedestrians and no travel across the railway will be permitted.  This  includes HPMV approved vehicles.
The Heavy Traffic Bypass will not be available and heavy vehicles will need to travel via State Highway 6 – Dee Street and Clyde Street.
Advance warning signage is in place to inform vehicles of this and there are detours for trucks (via Dee Street) and alternative routes for light vehicles.
Dee Street also has road works near Tay street and is reduced to one lane south.
Council will be monitoring how this is working during the week.
January 2020
Conyers Street Watermain Renewal
Work will start this month to replace an old asbestos cement pipeline along Conyers Street between John Street and Tramway Road.
The project involves replacing a 200mm asbestos cement watermain which was originally installed in 1962, and is part of the upgrade scheme happening throughout the city.
Along with a new pipeline, new valves and hydrants, fittings and connections to properties will be installed.
The work is expected to take until May to complete.
There won't be any full road closures, but there might be some disruptions to traffic flow and access to properties at times.
Please take care to pay attention to traffic management signs.
While there is a possibility of disruption to your water supply at times, this should be kept to a minimum.
Two new roundabouts to start 2020
Contractors began building one of two new roundabouts in early January – at the intersection of Dunns Road and Marama Avenue in Otatara.
Work at the intersection is expected to take about three months, and those travelling to or from Otatara should be mindful of any speed restrictions and diversions as the works progress.
Meanwhile, the intersection of Rockdale Road, Tweed Street, and Oteramika Road will also be changed to a roundabout, with work expected to start in the second half of February.
Read more about the two roundabouts here.
---
---