Keep up to date with Invercargill City Council's road works and infrastructure projects here.
You can also follow Invercargill Word on the Street on Facebook to get information on road closures and more straight to your newsfeed.
March 2020
Disappointing dumping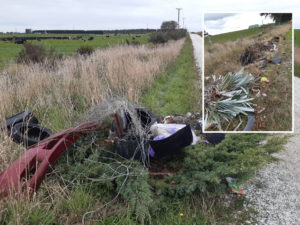 Council's Compliance and Roading teams are disappointed to note there has been an increase in illegal dumping of rubbish around town, particularly along gravel roads and near the beach.
We encourage all members of the public to report this activity – if they spot someone who they think might be illegally dumping rubbish, they're encouraged to try to note down a number plate and description and call us immediately.
If they've noticed dumped rubbish on the roadside, they should also call us, as our Compliance team can sometimes identify the culprits based on the material being dumped.
Staff are then able to arrange for the rubbish to be removed, and issue infringements.
February 2020
Victoria Ave to close from 17 February
Kiwi Rail have requested a road closure of Victoria Avenue between Arena Avenue to Leven Street (at the rail crossing)  from 7am on Monday 17 February for approximately 6 days.
This will impact all vehicles and pedestrians and no travel across the railway will be permitted.  This  includes HPMV approved vehicles.
The Heavy Traffic Bypass will not be available and heavy vehicles will need to travel via State Highway 6 – Dee Street and Clyde Street.
Advance warning signage is in place to inform vehicles of this and there are detours for trucks (via Dee Street) and alternative routes for light vehicles.
Dee Street also has road works near Tay street and is reduced to one lane south.
Council will be monitoring how this is working during the week.
January 2020
Conyers Street Watermain Renewal
Work will start this month to replace an old asbestos cement pipeline along Conyers Street between John Street and Tramway Road.
The project involves replacing a 200mm asbestos cement watermain which was originally installed in 1962, and is part of the upgrade scheme happening throughout the city.
Along with a new pipeline, new valves and hydrants, fittings and connections to properties will be installed.
The work is expected to take until May to complete.
There won't be any full road closures, but there might be some disruptions to traffic flow and access to properties at times.
Please take care to pay attention to traffic management signs.
While there is a possibility of disruption to your water supply at times, this should be kept to a minimum.
Two new roundabouts to start 2020
Contractors began building one of two new roundabouts in early January – at the intersection of Dunns Road and Marama Avenue in Otatara.
Work at the intersection is expected to take about three months, and those travelling to or from Otatara should be mindful of any speed restrictions and diversions as the works progress.
Meanwhile, the intersection of Rockdale Road, Tweed Street, and Oteramika Road will also be changed to a roundabout, with work expected to start in the second half of February.
Read more about the two roundabouts here.
---
---