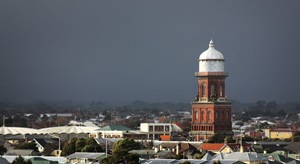 The Council is responsible for providing a safe supply of water to Invercargill and Bluff via a 360km pipe network. The Water Division has almost completed a 20-year-planned upgrade to the reticulation network. This work involves upgrading all cast iron mains and replacing galvanised water connections.
Related information:
Education
Branxholme Water Treatment Plant and Clifton Water Testing Laboratory
School groups may contact the Council's Water Division to arrange a tour of the City's water treatment plants.
Water Tower
The Water Tower, pictured above, is one of the city's best-known landmarks and has been classified by the New Zealand Historic Places Trust. In mid-February 2012 public admission to the tower was stopped – at least temporarily – to enable Council to consider the safety risk the building would pose in the event of an earthquake.
Education packs
The Council and Water New Zealand have information for students and teachers.
Fire hydrants
Fire hydrants are installed, owned and maintained by the Council. They are covered by a yellow cast iron lid and a yellow triangle is painted on the pavement for easy identification. The Fire Service (and Council contractors working on water-related projects) have the right to access water from the fire hydrants.  No other access is permitted without prior approval from the Council's Water Division.
Leaks
If you see a leaking tap – or a burst water main – contact the Council and provide as much detail as possible, for example the location, amount of water etc. This is important at any time of the year. We don't want to waste water at any time particularly in summer (when demand is high) and in winter (when leaks can cause patches of ice). If the problem is urgent or after normal office hours call 211 1679. You can also call the Council's help desk – (03) 211 1777 – or, if the problem is not urgent, email the Council using the request for service form.
Toby (shut-off valve) location
Want to know the location of the toby/shut-off valve on your property? Contact the Water Tower staff who will be able to give you the exact details.
Wells and bores
For information and inquiries, including construction, contact Environment Southland. For well or bore water testing contact the Council's Water laboratory at  (03) 216 2189
Water Conservation
Water is a precious resource. Because of Invercargill's climate and green surroundings people tend to forget that water for Invercargill and Bluff comes from the Oreti River and is a finite resource.  Therefore the Council encourges people to conserve water.  Don't leave garden sprinklers and hoses unattended, don't leave taps running when you are cleaning your teeth and showers are better than baths (but don't stand in the shower longer than you need to).  In the laundry make sure you do full loads of washing, rather than many small loads.  This will have a have a positive effect on our rivers and water resources.  Check the tips and advice in the Water Wise fact sheet.