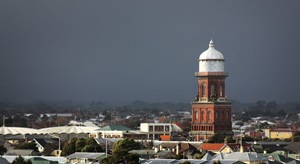 The Council is responsible for providing a safe supply of water to Invercargill and Bluff via a 360km pipe network. The Water Division has almost completed a 20-year-planned upgrade to the reticulation network. This work involves upgrading all cast iron mains and replacing galvanised water connections.
Related information:
Water advisory notice
Members of the public are advised that some plumbing fittings have the potential to allow minute traces of metals to accumulate in water standing in the fittings for several hours.
Although the risk is small, it is recommended that consumers flush a mugful of water from their drinking water tap each morning before use to remove any metals that may have dissolved from the plumbing fittings.
The Invercargill City Council, together with the Ministry of Health, recommends this simple precaution for all households, including those on public and private water supplies.
This notice is issued in compliance with the New Zealand Drinking Water Standard.
Every drop counts!
Remember to watch your water usage this summer – and help to protect one of our most important resources. Southland weather can change day-to-day – but just because it rains today doesn't mean it won't be hot and dry tomorrow! We need to make sure we all do our bit to look after our environment and be considerate in our water use.
Water Conservation
Water is a precious resource. Because of Invercargill's climate and green surroundings people tend to forget that water for Invercargill and Bluff comes from the Oreti River and is a finite resource.  Therefore the Council encourages people to conserve water.  Don't leave garden sprinklers and hoses unattended, don't leave taps running when you are cleaning your teeth and showers are better than baths (but don't stand in the shower longer than you need to).  In the laundry make sure you do full loads of washing, rather than many small loads.  This will have a have a positive effect on our rivers and water resources.  Check the tips and advice in the Water Wise fact sheet.
Tips
Handy tips for keeping your water usage down this summer:
In the kitchen
When peeling vegetables or washing dishes, don't leave the water running:  plug the sink and then run the water.
Make sure your dishwasher is full before you run it as dishwashers use a considerable amount of water. Also, don't rinse your dishes first: scrape them and let the dishwasher do the cleaning.
Check all taps are turned off properly.
Keep a water jug or bottle in your fridge instead of running the tap cold to get a cool drink of water.
Don't use running water to defrost your food. Allow it to defrost overnight in the refrigerator or use your microwave to defrost food straight from the freezer.
Use a pressure cooker, microwave or steamer to save water. Simmer rather than boil your food and use tight lids to prevent evaporation.
Water used to cook boiled food can be re-used in soups or casseroles – or let it cool down and use it to water your garden.
Your plants will appreciate food scraps added to the compost heap! A lot of water is wasted running a waste disposal unit.
In the garden
Use compost on your garden to trap moisture. Compost also provides essential nutrients – and prevents weeds from growing.
Don't water on windy days: much of the water will evaporate and/or go where you don't need it.
Collect rain water to water your garden.
Use recycled water (also known as grey water) that you have collected in your home to water your garden.
Don't cut the lawns too short. Lawns with more grass blades will hold water and require less irrigation.
Use a broom to sweep paths rather than a hose.
Plant drought-resistant species in your garden. Native plants require less water than exotic plants.
Water your garden late in the evening or early in the morning. You will use less water and there is less risk of harming your plants
Check the weather forecast before you water your garden: Mother Nature might take care of your garden watering needs.
Use a trigger hose to water the garden, not a sprinkler, to control where and how much water is used. Also, aim for the roots, not the leaves.
If your car needs washing, do it on the lawn and it gets watered as well. Use a bucket and brush for washing; only use the hose for rinsing.
In the bathroom
Usually a shower uses less water than a bath. However, some showers use 25 litres a minute or more; if so a partly full tub may be the best way to go. Ultimately a quick four-minute shower is the best option.
While you are waiting for the shower to run hot get a bucket and collect the cold water. This water can then be used for rinsing dishes or watering plants.
Don't leave the water running especially when you are brushing your teeth or shaving. You can also put the plug in the sink while you are washing your hands, and turn the shower off while you are shampooing your hair.
Talk to your plumber about lowering your water pressure. The higher your water pressure, the more water you will waste.
Don't use the toilet to flush items such as tissues or anything else that could go in the rubbish bin.
Check your toilet for leaks. Ask a plumber to fix corroding or bent fixtures or invest in a new, more efficient toilet.
To reduce the amount of water per flush put a small plastic bottle filled with water in the cistern, making sure it does not interfere with the flush mechanism. Do not use a brick as it may damage the cistern or the plumbing.
In the laundry
Wait until you have a full load before running the washing machine.
Select the correct water level setting on your washing machine to match the size of your load
Water Tower
The Water Tower, pictured above, is one of the city's best-known landmarks and has been classified by the New Zealand Historic Places Trust. In mid-February 2012 public admission to the tower was stopped – at least temporarily – to enable Council to consider the safety risk the building would pose in the event of an earthquake.
Leaks
If you see a leaking tap – or a burst water main – contact the Council and provide as much detail as possible, for example the location, amount of water etc. This is important at any time of the year. We don't want to waste water at any time particularly in summer (when demand is high) and in winter (when leaks can cause patches of ice). If the problem is urgent or after normal office hours call 211 1679. You can also call the Council's help desk – (03) 211 1777 – or, if the problem is not urgent, email the Council using the request for service form.
Education packs and tours
Branxholme Water Treatment Plant and Clifton Water Testing Laboratory.
School groups may contact the Council's Water Division to arrange a tour of the City's water treatment plants. (03) 211 1777 
The Council and Water New Zealand have information for students and teachers.
Toby (shut-off valve) location
Want to know the location of the toby/shut-off valve on your property? Contact the Water Tower staff who will be able to give you the exact details.
Wells and bores
For information and inquiries, including construction, contact Environment Southland. For well or bore water testing contact the Council's Water laboratory at  (03) 216 2189
Fire hydrants
Fire hydrants are installed, owned and maintained by the Council. They are covered by a yellow cast iron lid and a yellow triangle is painted on the pavement for easy identification. The Fire Service (and Council contractors working on water-related projects) have the right to access water from the fire hydrants.  No other access is permitted without prior approval from the Council's Water Division.