City water main renewal begins
With significant proposals for redevelopment in our City Centre, the Invercargill City Council works and services team has put extra thought and consideration towards its renewal and maintenance programming. This means that some projects are being brought forward, while others will happen in concert with other developments in the city centre. 
It's a tricky balancing act, but by taking a slightly different approach to these planned works, staff are aiming for the best solutions for the infrastructure while minimising disruption for businesses, road users, and the public.
19 December 2019
Road works cranking up early in the New Year
While the Ocean Beach clean up began earlier this week as part of an investigation project, Roading Manager Russell Pearson reports his plans for early 2020.
Christmas lights, trees and decorations will come down in early January and be put into storage for another year.
I have a number of contracts which were approved for roundabouts at Marama Ave and Dunns Road, as well as Rockdale Road and Tweed Street, which will begin after Christmas.
We have also approved a tender for street lighting improvements.
Work on the Invercargill to Bluff Cycleway is likely to begin in mid-late February.

8 November 2019
Detour for Troopers Memorial Roundabout
Update 29 November: As of 25 November the contractor has disestablished from site to allow the community to commute easily during the Christmas period. Work is expected to start again on 6 January 2020.
Part of the Troopers Memorial roundabout on the Tay Street and Dee Street intersection will be closed from Saturday to as the new water main upgrade continues.
Please follow the traffic management signs, as some detours will be in place.
The detour will be in place from Saturday 9 November.
Bus stops are not affected by the works.
18 October 2019
Detour for Troopers Memorial Roundabout
Part of the Troopers Memorial roundabout on the Tay Street and Dee Street intersection will be closed from Monday to install a new water main.
Please follow the road signs, as some detours will be in place.
Trucks traveling north on Clyde Street intending to use Tay Street will be directed to take Tweed Street and Elles Road.
Please follow the traffic management signs, and drive safely around the works.
The detour is expected to be in place from Monday 21 October.
Bus stops are not affected by the works.
14 October 2019
Detour for South City Street Party
The South City Street Party is on Friday 18 October, with part of Elles Road closed for the celebrations.
Elles Road, between Grace Street and Janet Street, will be closed and part of Martin Street off Elles Road, will also be closed for the party.
Please follow the detour signs and drive safely.
The Kew Connection BusSmart service will be affected by the road closure and will follow a detour.
One bus stop outside the Martin street shops will be closed during the street party.
4 October 2019
Detour for Troopers Memorial Roundabout
Update Friday 11 October: Due to adverse weather conditions there has been a delay. The works are now expected to be completed by Tuesday 15 October.
As the Inner city water renewal project progresses part of the Troopers Memorial roundabout on the Tay Street and Dee Street intersection will be closed from Monday to install a new water main.
Please follow the road signs, as some detours will be in place.
Access to Clyde street from Tay Street and Dee street is not affected.
Please follow the road signs, and drive safely around the works.
The detour is expected to be in place from Monday 7 October to Friday 11 October.
Bus stops are not affected by the works.
Martin Street next to get foul sewer renewal
Council's engineering services group is replacing the sewerage pipes in Martin Street as part of ongoing work to improve the city's infrastructure.
The works are scheduled to start on Monday 7 October, and are planned to take a couple of months to complete.
Martin Street will be closed to traffic during the works with detours available.
Resident's access will be maintained.
Council Project Technician Capital Projects – Neill Ungerer said the new PVC pipes will replace old brick pipes which were installed in 1905 and have degenerated.
"The old pipes have lasted quite well for their age but now are being damaged by roots," Neill said.
The project will be done in stages, beginning at the intersection of Martin Street and Nelson Street before moving to the next stage.
Bus routes and bin collections will not be affected by the works and will continue as normal.
The project is scheduled to be completed in December 2019.
16 September 2019
Windsor Street open for business
By Project Technician Joel Stott

As work continues in Windsor Street, near New World, all of the works between King and George Streets have been completed!
The co-operation and understanding of local businesses and residents alike has been really appreciated so far, in a difficult time.
Works have been progressing well on-site, with the two southern blocks completely open and ready for parking/shopping.
We are nearing the end of the works on Windsor Street, which will finish at the New World entrance in early October.
Directly following this, works will move to Catherine Street for the final stage of the project.
During construction, additional work has been identified on Catherine Street, which will delay the end of the works, but improve the overall quality of service.
The foul sewer main and its connections are now to be replaced in the same trench as the stormwater – much like the renewals on Windsor Street.
During this stage, Catherine Street will be closed, with residents access only.
Pomona Street to close for foul sewer renewal
Work to renew the foul sewer mains on Pomona Street between Centre and Collingwood Streets is underway.
This will provide a much-needed upgrade to infrastructure originally installed in 1924.
The works are expected to be finished mid-October and are being completed by SouthRoads.
Sadly, there have been a significant number of near-misses with traffic, putting our contractors at risk.
To improve the safety of road users and those on-site, Pomona Street will be closed to through-traffic for the remainder of the works.
We apologise for any inconvenience this may cause.
A detour route will be set up and maintained around the site on Centre Street, Morton Street and John Street.
Latest – 4 September 2019
The intersection of Marama Ave North, where it meets Dunns Road, is currently closed due to emergency works.
A stormwater drain has collapsed beneath the road, and our contractors are working to remedy the situation.
At present, there is no access into, or out of, Marama Ave North from Dunns Road.
If you need to access Otatara Preschool Early Learning Centre, or properties on Marama Ave North from Dunns Road, we recommend you go via Awarua Rd and Mahuri Rd.
The work is expected to take up to two days to complete – we will keep you updated here when the intersection reopens.
Please take care and obey all road signs.
Latest – August 21 2019
There's plenty of works happening around the city that can be disruptive for motorists.
Here's the latest updates on just a few of them from project Technician Joel Stott:
Stormwater renewal for Esk Street
Earlier this week, the Engineering Services Group began the stormwater renewal in Esk Street, near the intersection of Jed Street.
This project is to replace an old historic brick main – initially installed in 1874 which is now in pretty poor condition.
The work will proceed East on Esk Street, through to the intersection of Doon Street. It will continue along Doon Street to the intersection with Don Street.
The work is expected to be completed in November.
Foul sewer renewal for PomonaStreet
On Monday, work will begin to renew the foul sewer main connections on Pomona Street, between Collingwood and Centre Streets.
Work will start at the Centre Street intersection, and is expected to be completed in November.
Works on Windsor continue
This project is just past the half way mark, at about 55% complete.
We have struck a few obstacles along the way – being winter, while not completely unexpected, snow and freezing rain don't help with progress!
As with any project, there have been minor changes and issues which are not precisely foreseeable but are expected to some extent.
This particular piece of earth has not been disturbed for 100 years (the foul sewer was initially installed in 1929), so there is the odd thing that crops up.
Despite some setbacks, the target completion date of October 15 remains achievable, albeit with some pressure on our timelines.
There have been some occurrences of people driving the wrong way through the road works, with some close calls reported by business owners.
People should follow the directions on the signs posted – they are there to manage access while keeping the public and our contractors safe.
The last formal updates to business owners were given just prior to the "Streets Alive" event, which was a great success.
We have continued to keep in touch with a few business owners who have reached out, and all businesses have been provided with my contact details – I'm happy to provide further updates when asked.
Our next flyer is likely to be sent out with a formal update at the beginning of September.
Latest – June 7 2019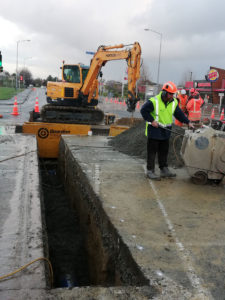 Weekend work is planned for\ the Tay/Elles/Queens Drive intersection.
Work will begin on Friday night at approximately 6.30pm and will continue until completion expected to be before 7am Monday, 10 June.
Detours and signage will be in place.
Subject to weather conditions it may be necessary to place a temporary seal rather than permanent asphalt. That will require a return to the site at a later date and a repeat of traffic restrictions but for a shorter time.
For yours and other people's safety please obey all traffic signs and diversions.
Thank you for your patience during this time.
Latest – May 21 2019
Work on the watermain renewal project has reached the intersection of Spey and Dee Street, with the intersection expected to reopen this week.
The intersection of Yarrow and Dee Street will be closed again for a short time to reinstate the road.
This work is weather dependant.
Unfortunately, due to the container walkway still being required outside the ILT demolition site, work is unable to continue along Dee Street at this time.
Instead, work to renew the watermains along Tay Street will begin at the intersection of Tay Street and Queens Drive/Elles Road from next week.
There will be multiple changes to the road layout to keep road users and contractors safe. Please take care and pay attention to road signs.
You may need to use either Ythan or Conon Street when travelling south as turning lanes at Queens Drive will be affected and diversions in place.
Works will proceed along Tay to Dee Street, then continue north on Dee to link with the section of pipework already laid on Dee.
LATEST – March 26 2019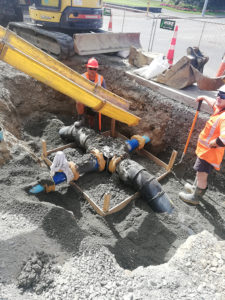 Work to replace Invercargill's ageing water mains network is progressing well along Dee Street.
The project began in February, near the intersection of Victoria Avenue and Dee Street.
The work affects the southbound lane closest to the centre plot.
With the work being undertaken block-by-block, contractors are currently working between Leet and Yarrow Streets, however the lane remains closed from Gala Street.
This is to allow NZTA to come in and put down new asphalt across the entire lane.
This work is weather dependant, and likely to take several weeks. Please obey all road signs and take care.
---
Work to replace Invercargill's ageing water mains network is starting in Dee Street on Monday, February 18.
The project to replace the 250mm asbestos cement water mains, which were installed in the 1950s, was originally planned for 2023, but was brought forward to coincide with the demolition work happening at the corner of Dee and Don Streets for the new ILT Hotel, as well as the proposed HWCP development.
The water mains renewal project includes Dee, Tay, and Clyde Streets. Work will begin opposite McDonald's in Dee Street, and progress south towards the roundabout.
This work is being undertaken block-by-block, and Council is working with NZTA to ensure the road surface of the lane affected will be rehabilitated at the completion of each block.
It is expected the Dee Street work will be completed by the end of June, with some ashphalting work to follow when the weather improves.
The work involves digging up the south-bound lane closest to the centre plot. One south-bound lane and parking will remain open at all times. Council will provide up-to-date information on each block, road closures, and diversions as available.
The water mains which are being replaced are a critical part of Invercargill's network, so it's vital we upgrade this essential infrastructure to help protect and future-proof the city's access to its water supply.
For regular updates on the project, visit Council's website, Facebook page, or the Word on the Street Facebook page.
www.facebook.com/InvercargillCityCouncil
www.facebook.com/InvercargillWordontheStreet
Drainage works planned for Windsor Street
LATEST – March 26 2019
Those visiting Windsor in recent days will have noticed changes to works on King Street.
As part of a large project which will soon include Windsor Street, works on King Street are progressing well.
King Street, between Antrim and Dublin Streets, is now open to vehicles, with stormwater connections completed.
While the road is expected to remain open in this area, the footpath on the northern side of King Street will soon be closed while the kerb and channel is renewed.
King Street, between Antrim and Windsor Street, is currently closed to traffic.
This closure is likely to be in place for some time, until work to replace stormwater and foul sewer networks begins in Windsor Street, starting April 15.
---
The Invercargill City Council is planning significant drainage works in Windsor Street, with work expected to begin in February.
The work is broken into three main stages, and is expected to finish in August.
Stage one will start on King Street in February. This will involve some drainage work crossing the road and a footpath renewal on the north side of the road.
The second stage will be renewal of the foul sewer and stormwater network (in the same trench) on Windsor Street between Herbert Street and King Street.
The third stage of the project will be the renewal of the stormwater network on Catherine Street.
The construction site will be limited to the length of two blocks at any one time. Parking on both sides of Windsor Street will be affected while the main works progresses, however we will be working with the contractors to minimise the disruption.
Working hours will be limited to 7am – 7pm Monday to Saturday.
The bus stop outside the Windsor Community Green will not be operational while works are directly affecting the site. The two nearest bus stops are on Herbert Street outside the New World and on the north end of Sydney Street. While the stop is closed the bus will divert past Windsor Street, down Queens Drive, right onto King Street and down Sydney Street.
Earlier: Work Starts In King Street
Contractors will start work in King Street to renew drainage connections on Thursday, February 21.
Part of King Street, between Windsor Street and Cheyne Street, will be closed to vehicles and pedestrians throughout the work.
After the drainage connection work is complete, Council's contractors will then work to improve the footpath and kerb and channel on King Street between Windsor Street and Dublin Street.
All-in-all, it's hoped the works on King Street will be completed by the end of May.