The Chairman of Invercargill City Forests Limited (ICFL), Alastair McKenzie, is pleased to announce a before-tax profit of $2,982,000 for the year ended 30 June 2017. This is an increase of $1,125,000 or 60 per cent over the prior year.
Mr McKenzie said that the results were reflective of a good harvesting year on the back of strong log prices. These strong prices also resulted in an increase in the forest crop valuation to $19,867,000.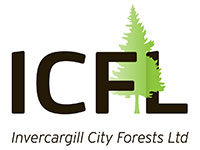 In line with continuing operations, the Directors have re-evaluated their investment in IFS Forestry Group (IFS) and its impact on ICFL. After discussions with IFS, the Directors have decided to sell their 24.9 per cent investment in IFS back to Mr Dan Minehan.
Mr McKenzie said that while this investment was made for the right reasons, IFS have grown and developed into a large company with a focus on areas that ICFL were unable to support them in. He said these areas were a distraction from the core business of ICFL.
Both Boards are convinced that this is the correct decision for both companies and feel that there will be many more opportunities to work together in the future.
IFS will continue to provide all forest management services for ICFL and its growing estate.
Copies of the ICFL accounts are available on the company website: www.icfl.co.nz