Four new street signs featuring poppies to honour servicemen who fought for New Zealand have been put up in Invercargill.
The Poppy Places Trust launched the Places of Remembrance Project on 11 November 2014 to identify and record New Zealand streets and other places that are directly related to people and events from our overseas military history.
The Trust works with local authorities to identify these places and develop the story behind the naming. The project involves including the RSA poppy symbol on street sign blades.
Invercargill City Council has registered four streets and a park. They are Mepal Place, Lancaster Street, Checketts Place, Hinton Court,and Russell Square park.
With Council approval, the street signs for the four streets, which feature poppies, are now in place (the sign for Russell Square has not yet been placed).
The stories behind the names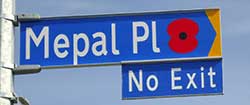 Mepal Place and Lancaster Street were developed by Southern Equities Ltd in the early 1970s. Ivan Carroll, Arthur Diack and Louis Crimp were the directors. Carroll and Diack chose the street names based on their World War II experience as  bomber pilots.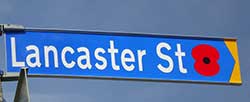 NZ4213254 Flying Officer Ivan Sylvester Carroll, RNZAF NZ Bomber Command 75 Squadron, was based at Mepal in England where he flew Avro Lancasters, the British four-engined heavy bombers. NZ4214077 Flying Officer Arthur Francis Diack, 626 Squadron, was based at Wickenby, Lincolnshire, England, where he also flew Lancasters.

Checketts Place is named for NZ403602 Wing Commander John "Johnny" Milne Checketts, RNZAF World War II fighter pilot. Checketts was born in Invercargill in 1912 and died in 2006 aged 94. He is buried in Christchurch. Checketts was credited with destroying 14 enemy aircraft. He was awarded the DFC (Distinguished Flying Cross), DSO (Companion of the Distinguished Service Order) as well as the Silver Star (USA) and Cross of Valour (Poland).

Hinton Court is named for NZ7930 Corporal John "Jack" Daniel Hinton, VC, of the 20th Infantry Battalion. Hinton was born in 1909 at Colac Bay. He died in 1997 aged 87 and is buried in Christchurch. When he enlisted for World War II, he was 30 and working as a foreman driver in Greymouth. Hinton received the VC (Victoria Cross), which is the highest award for gallantry "in the face of the enemy" that can be awarded to British and Commonwealth forces, for his actions at Kalamata on 29 April 1941 during the Battle of Greece.

Russell Square was named after the New Zealand Soldiers' Club which was at 17 Russell Square, London. In the early 1920s the Invercargill RSA approached the council with a proposal to subsidise the wages of unemployed Returned Servicemen if the council would give them work. The council agreed and the men were employed by the reserves department. One group cleared, levelled and formed Russell Square Park and asked that it be named after the club in London.