Work has started on installing the City's Christmas decorations with all the new lights and Christmas trees set to be up by the end of this week.
Council's Roading Manager, Russell Pearson, said there were delivery issues with the materials due to the earthquake but the container of decorations was received last Tuesday with staff working hard to have them in place quickly.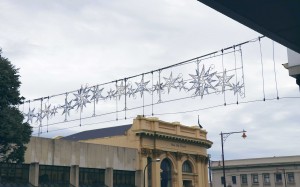 "The Christmas trees are now up in Windsor, Glengarry, Bluff and the Invercargill Public Library, with one in South City to be in place once construction work in the area has finished. The big tree will go up in Wachner Place today with decorations added Tuesday.
"Two of the new decoration panels on Tay Street have been put up and the rest of the decorations for Tay, Dee and Esk Streets should be finished by the end of this week.  We are hoping the weather will be kind to us as we undertake this work in the evenings," Mr Pearson said.