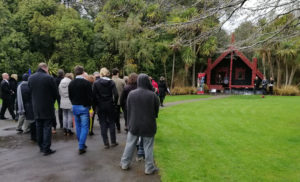 Heritage New Zealand Pouhere Taonga has added Invercargill's Te Wharepuni o Anehana to the New Zealand Heritage List as a Wāhi Tūpuna.
The beautiful wharepuni was constructed in 1925 and was one of only three carved whare in the South Island in 1972, and the first whare in Te Wai Pounamu to be given wāhi tūpuna status.
Under the Heritage New Zealand Pouhere Taonga Act, Wāhi Tūpuna identify places important to Māori for their ancestral significance and associated cultural and traditional values.
"These places have tremendous significance to Māori for their values connected to tūpuna," says Heritage New Zealand Pouhere Taonga Pouārahi, Huia Pacey.
"This deceptively humble-looking wharepuni has links back to some of the most important tohunga whakairo in Aotearoa."
Commissioned by wealthy landowner Sir Robert Anderson in the 1920s as a fashionable 'Māori house in the garden' to complement their new stately neo-Georgian home, the carvings – a central part of the wharepuni – were created by master carver Tene Waitere – before being attached to a purpose-built frame.
"Tene Waitere was born in Mangamuka around 1853 and was trained by tohunga whakairo Wero Taroi in the Ngāti Tarāwhai carving style, becoming part of the special Ngāti Tarawhai lineage of carvers whose prolific works had such a significant impact on the Māori tradition of wood carving in New Zealand and overseas," says James Schuster, one of Tene's descendants and a carver in his own right.
"Tene Waitere worked on several meeting houses around Taupō and Rotorua along with other expert carvers like Anaha Te Rahui and Neke Kapua. Some of these share very similar whakairo figures to those at Te Wharepuni o Anehana.
"Many meeting houses were used to manaaki visitors to the region – including Hinemihi o te Ao Tawhito at Te Wairoa, which withstood the 1886 Tarawera eruption and sheltered many, including Tene Waitere and his whānau."
Adapting to a changing landscape, Rotorua-based Tene also produced commercial works for clients including the massive mantelpieces at Auckland's Grand Hotel and the Grand Hotel at Rotorua.  Tene's traditional whakairo include Hinemihi at Whakarewarewa, Tiki at Ohinemutu and carvings at Auckland's Ōrakei Marae.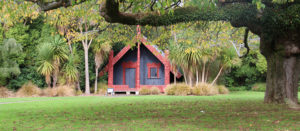 In 1910, Tene and his whānau went to Sydney with famed entertainer Maggie Papakura's concert party to set up a model Māori village and demonstrate the art of carving. In 1927, the School of Māori Arts was established in Rotorua with the intention of training carvers and other artists, and Tene Waitere was often consulted in regards to the carving school.
"Te Wharepuni o Anehana carvings include whakairo, pare and whakawae. The owner, Sir Robert Anderson, wanted to finish the interior, though this was never completed in his lifetime," says Huia.
"The wharepuni did have a sprung floor, however – ideal for dances and other events, including the wedding of Sir Robert's daughter Kathleen in 1932."
The Anderson land and buildings – including the Wharepuni – were gifted to the Invercargill City Council by the children of Sir Robert and Lady Mary Anderson in the early 1950s. In the 1970s – after the wharepuni was recognised as being only one of three carved whare in the South Island – efforts were made to complete the interior.
With the economic boom of the 1960s and 70s, Invercargill had grown with the expansion of primary industries such as the freezing works and fisheries, as well as the aluminium smelter at Tiwai Point.
These enterprises as well as large-scale infrastructure projects like the hydro-electric works in Manapouri and road development provided work opportunities that drew northern Māori to Southland – many of whom formed a connection to the Wharepuni, which included fundraising for restoration work, and even a proposal to council  to relocate the whare to the most prominent position on the property.
"Although the proposed relocation was not deemed technically feasible, a committee was formed to raise money for maintenance and completion of the interior fit-out, and eventually this gained traction," she says.
The wharepuni, which has been a part of the Murihiku hapū landscape since 1925, was further enriched with interior pou carved under the guidance of Taka Ponere in 1980, and the installation of tukutuku panels by Mrs Winnie Solomon and Anna Gorham of Riverton in 1995.
"Today, Te Wharepuni o Anehana – now approaching a hundred years old – continues to draw the descendants of Tene Waitere who visit the whare to maintain their connection, reflect on Tene's achievements and keep his stories alive," says Huia.
"Besides its obvious value as a taonga for its whakairo and tukutuku Māori arts, the wharepuni is a unique example of Invercargill's built heritage – and an important link to one of Aotearoa's foremost tohunga whakairo."