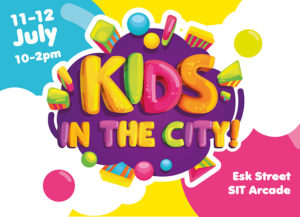 This school holidays, Esk Street will be all about fantastic fun for Kids in the City!
In collaboration with ILT Kidzone, Invercargill City Council, along with Great South, Sport Southland, Healthy Families Invercargill, and Invercargill Central Limited, will be closing Esk Street and filling it with great games and activities on Saturday 11 and Sunday 12 July.
City Centre Co-ordinator Shru Shrivastava said Great South approached Council with the fantastic idea after it became apparent they would no longer be able to hold ILT Kidzone this year due to COVID-19.
"We will be filling Esk Street and SIT Arcade with some of the awesome activities and games usually offered at ILT Kidzone, as well as facepainting, pop-up play spaces, and food trucks for the whole family," Shru said.
Invercargill Central Limited would also be offering heritage talks and showing off some of the awesome demolition work from the City Block project.
Kids in the City will be held in Esk Street and SIT Arcade from 10am until 2pm on Saturday 11 and Sunday 12 July, and is free!