The second stage of the refurbishment of the Invercargill Public Library on Dee Street is under way.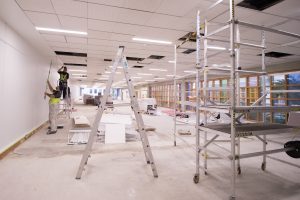 The refurbishment began on 7 May with the Information Services area.  The second stage, starting on 11 June 2018, will see Information Services return to its proper home, but will result in a temporary closure of the Library on 17 and 18 June.
Libraries and Archives Manager Marianne Foster said the main focus for the second stage is on the Adults' Services area.  There had already been some shuffling of services around the building as part of the first stage of the refurbishment, including a closure, and this second stage would be quite similar in its effects on the building, she said.
Adults' Services are already located in the Children's Services area, but non-fiction and biographies will move  to the Information Services area.
"We will be moving back into the Information Services area from 11 June, with everything to be up and running in that area by 15 June," Ms Foster said.
The returns slot for Adults' Services will be unusable during these works, and library users are asked to use the returns slot on the Children's Services side of the building instead.
There will be some restricted access to the Library on 19 June, and there will be some noise during the day as floor tiles are lifted and grinding work undertaken. People are asked to follow the signs for entry into the library, as the foyer will be closed.
A pop-up library is being organised for 18 June, during the closure, and will be held in South Invercargill. Follow the Invercargill City Libraries and Archives Facebook Page or check out the website for more details.
For information about how an event or service might be affected, contact the library helpdesk on (03) 211 1444 or by email help@ilibrary.co.nz