Designs are sought from local artists for the 2015 Chorus-Invercargill City Council cabinet art programme in the city.
The cabinets become works of art in the street, often telling stories about the communities in which they are located, and they help to discourage tagging. The programme has been very successful around the country. Existing Chorus cabinet artworks can be seen at this website .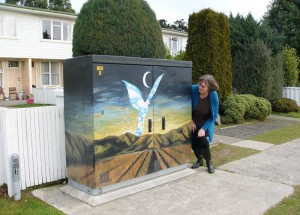 For this year's project 11 frequently tagged have been selected for facelifts. Generally Chorus will pay $1000 for each cabinet, which includes the design, painting and application of supplied graffiti guard. Paint and brushes will be paid for on top of the fee but there is no payment for travel or accommodation.
A cabinet in McQuarrie Street requires a greater surace area to be painted and the artist selected for this cabinet will receive $1500. The fees for two smaller cabinets (see list below) will be $400.
Hinges, the cabinet ID label and small viewing slots cannot be painted over. Usually only the front and sides of the cabinet are included in the design. The work can be signed and a website address added but obvious advertising cannot be included.
Artists are provided with instructions on how to prepare the cabinet and graffiti-guard it once the painting is finished, with payment made once the work is satisfactorily completed.
Interested? Contact the Council's Community Development Manager, Mary Napper, for an information pack: phone 03 211 1669 or   021 391 674 or email community.dev@icc.govt.nz. To be considered, please supply by 1 September 2015 an A4 hand sketch of your design, a short description of what the design means and a note about any relevant experience.
The cabinets selected for facelifts:
32 Albert Street – on Albert street near Grey (small green cabinet)
80 Lewis Street – corner Lewis and Grey
152 Lewis Street – on Ramig Street
4 Montrose Street – on Albert Street
78 Waihopai Street – on corner of Moana Street,
231 Gala Street – on Mary Street (small green cabinet)
18 Inglewood Road – on Duncraig Street corner (Richardson Truck Museum theme)
126 Ythan Street – corner of Ettrick Street (cream box, NOT the green one next to it)
329 Ettrick Street – corner Princess Street
327 Ness Street – corner Paton Street
85 McQuarrie Street – at the reserve (design to include cabinet back)
579 Tweed Street – on Lime Street
Chorus will decide which art works it wants and it is envisaged that the work will be completed as soon as weather permits. All finished art will be included on the Chorus website and work completed by 1 October will be considered for the 2016 Chorus Cabinet Art calendar, copies of which are sent around the world.