The Māori Electoral Option is a chance for people of Māori descent who are enrolled to vote, to choose which electoral roll they want to be on – the General roll or the Māori roll.
It's an important decision: it affects who you can vote for to represent you and your area in Parliament.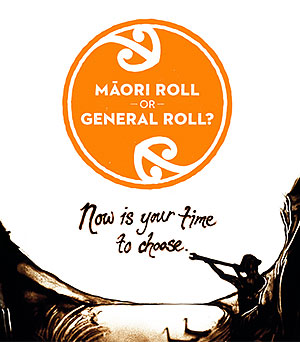 The Māori Electoral Option runs from 3 April to 2 August 2018. The next opportunity for you to change rolls won't be until the next Māori Electoral Option in 2024.
If you are of Māori descent and enrolled to vote, you will be sent a pack in the mail early this month [April 2018].
If you're happy with the roll you are on, you don't need to do anything. If you want to change rolls, sign and date the letter included in the pack and send it back. If you lose your letter you can also use an enrolment form to change rolls.
If you don't receive a pack in the mail you're either not enrolled, your address details are not up to date or we don't know that you're of Māori descent. You need to fill in a new enrolment form.
Your choice needs to be in by 2 August 2018.
For more information about the Māori Electoral Option or to get an enrolment form visit maorioption.org.nz or call 0800 36 76 56.