Matariki, the Māori New Year, is recognised by the rising of a cluster of stars known as the Pleiades that appear in mid-winter.
The Matariki Festival is a celebration of friendship, collaboration, arts and harvest – and a time to celebrate the greatness and abundance of culture and talent in New Zealand.
Check the 2018 Matariki Events Calendar for events in and around Invercargill.
Invercargill's Matariki Festival runs in Esk Street from 10am to 4pm on Saturday, 7 July 2018.. There will be plenty of performances  throughout the day including kapa haka groups, local singers, workshops (carving, weaving, poi making, musical instruments) and a dark skies exhibition. There's also a vibrant outdoor market and a Stardome so you can experience the stars and the story of Matariki first hand. We will also have food trucks, face painting and more.
All of these activities are free and open to the public.
Esk Street Pocket Park Line Up
10:30 am Holly Muirhead
11:30 am Brass Band
Noon: Tongan Drummers
12:30 pm Kapa Haka
1pm Gabriel Lal
2pm Amber
3pm Lady Friday
Festival events that run from 10am to 4pm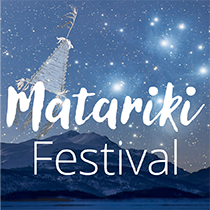 Matariki Market 10am-4pm
Food trucks
Shopping at local retailers
Dark Skies Photo Competition Exhibit 62 Esk St (former ASB building)
Weaving workshops and making 11am to 2pm and 3pm to 4pm
Carving demonstrations by Oti Murry and Tahu Parkinson throughout the day
Poi Making Workshops 10:30am to 12:30pm and 3pm to 4pm
Stardome 11am to 4pm
Carving demonstrations and meet Steve Solomon
Facepainting 11am to 3pm
Hula hooping fun plus other activities throughout the day
Tawhirimatea's Eyes
Matariki literally means the 'eyes of god' (mata ariki) or 'little eyes' (mata riki). According to myth, when Ranginui, the sky father, and Papatūānuku, the earth mother, were separated by their children, the god of the winds, Tāwhirimātea, became so angry that he tore out his eyes and threw them into the heavens.
Many local children have will be making Tawhirimatea's Eyes and displaying them in shops throughout the city centre.
Check this this flyer for instructions making Tawhirimatea's Eyes – and about how to enter for a prize draw.
Make sure you see some of the wonderful art work by local children while shopping in the city.
NOTE: Learn more about Matariki by visiting this section of the Ministry for Culture and Heritage website.