Stead Street was closed by police this afternoon (Thursday, 10 March 2016) as winds gusting to more than 95 km/h combined with the high tide to cause surface flooding. The street was reopened early this evening.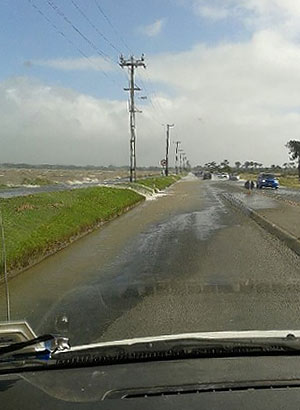 Teams from Council's Engineering Services Group are checking surface flooding in several areas and motorists are urged to drive with extra care. The strongest wind gust recorded at the ICC building in Esk Street this afternoon was 96.6km/h.
It is understood there is surface flooding around the Waihopai and Otepuni Streams, Bond Street, Gladstone Terrace and Grey Street. Council's engineering staff are checking these areas, and Kingswell. Parks staff are also checking various incidents including a light pole that was blown down at a sports field.
Meanwhile MetService staff expect southwest gusts of up to 120 km/h this afternoon for coastal Southland (including Stewart Island). The gusts are forecast to ease this evening.