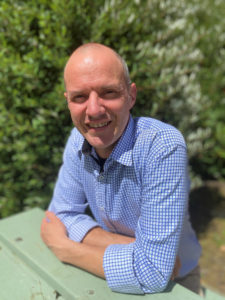 If Tim Fletcher has his way, Southlanders will soon be swapping their cars and utes for pedal and foot power a lot more.
Fletcher is in his first week of an exciting new role – Active Transport Innovator. The role is a joint initiative between Healthy Families Invercargill, and the Invercargill City and Southland District Councils. It is the first time such a position has been created in the south, with Invercargill identified as an ideal location to have an active transport network.
The role has been formed largely as a coordinated approach to promote active modes of transport within the scope of Invercargill's changing physical environment. The Active Transport Innovator will take an overview of the active transport system in Southland – using physically active ways to travel around and between our towns and cities (cycling, walking, and scooting) and how our towns and cities are connected. While collaboration is a major part of the work undertaken by the Healthy Families Invercargill team, this is the first time a shared position has been created.
Healthy Families Invercargill manager Jared Cappie said having someone on the team dedicated to supporting high level changes in the way the region looks at and thinks about active transport, would go a long way in changing perceptions and improving the region's use of active transport.
Physical activity is vital for our physical and mental wellbeing. Across Aotearoa, motorised transport to school is widespread and on the increase, and Southland's rate is higher than the national average. But many of these journeys are within walking distance. Active transport is an inexpensive and convenient way to incorporate physical activity into a young person's day, Cappie said.
"Tim will be working with councils, decision makers, and stakeholders to make sure that active transport, the way we get around, and how we view physical activity, will be front of mind when planning and decision making, but he will also be working with the community to understand the barriers, needs, and wants, when it comes to making active transport easier and more accessible."
Southland District Council Roading Manager Hartley Hare said improving the wellbeing of the Southland community was a priority for the district council, and could be strengthened by collaboration, hence the involvement with the city council and Healthy Families Invercargill.
"By working together on this, we can really make a difference to our communities' wellbeing."
Invercargill City Council Roading Manager Russell Pearson echoed those words and said having better governance and leadership in place will drive opportunities for people to walk, cycle, or scoot safely around our towns and cities and was all part of a commitment to ensuring the region was a fantastic place for families and individuals to live, learn, work, and play.
"As a council we pride ourselves on remaining relevant and responsive to the needs of our community. While this new position will really help cement that, it will also help build our region's overall wellbeing. We are really looking forward to progressing this initiative and working with the district council and Healthy Families Invercargill to ensure as many positive outcomes are met as possible. We know it will be a challenge changing mindsets, but we are committed to doing it, for the good of our community."
For Fletcher, it is also a challenge he is relishing.
A Southlander at heart, Fletcher has spent the past nearly 20 years living and working overseas, most of that time in Switzerland, where he was initially a professional dancer, and more latterly, a teacher at an international school teaching drama and dance to 11-18 year olds.
He and his wife moved back to New Zealand at the end of 2020, after earlier deciding they wanted to provide their two sons, 9 and 6, with the opportunity to live in New Zealand.
When the active transport role came up, it seemed a perfect fit, aligning well with the family's own values around physical activity, sustainability, and community responsibility.
"As soon as I saw the job title I said to my wife I was applying for it, without even seeing the job description."
Learning more about the position cemented his passion for what the role could bring.
"It's lots of the values we are trying to give our kids, those responsibilities in their own communities, about being sustainable, taking responsibility, and thinking about the community."
But he is not blind to how much of a challenge his new role will be.
"There is a lot of energy here to build on what is already in place, which really excites me. To change the way we do things and the way we think about things, that excites me."