Invercargill property owners will soon receive new three-yearly rating valuations in the post or via email.
Updated values have been prepared for all 26,344 properties in the city by independent valuers Quotable Value (QV) on behalf of Invercargill City Council. They reflect the likely price a property would have sold for on 1 July 2023, not including chattels.
Since the district's last revaluation in 2020, the value of residential property, which makes up the majority of property in the city, has increased by an average of 21%. The average house value is now $475,000, while the corresponding average land value has increased by 44% to a new average of $194,000.
QV Urban Revaluation Manager Melanie Halliday commented: "Strong home value increases continued from our 2020 revaluation through to 2022, when the property market cooled significantly. Prices then reduced by around 9.9% from their peak to the effective revaluation date of 1 July 2023.
"2023 has been a turning point for residential property in Invercargill, with the market flattening since early in the year. Now, in more recent times, we have seen green shoots in the market with QV's House Price Index data increasing month on month since June. This has largely been driven by a low inventory of houses available on the market, increased demand from first-home buyers, and out of town buyers looking to relocate because of the relative affordability and easy lifestyle the city offers."
The average capital value of an improved lifestyle property has increased by 28% to $753,000, while the corresponding land value for a lifestyle property increased by 28% to $315,000. "Invercargill's lifestyle market has seen strong growth since 2020, with its relatively low price point by national standards appealing to those wishing to begin lifestyle living or looking to retire in the area," Mrs Halliday added.
Meanwhile, commercial property values have increased by 27.2%, influenced by commercial accommodation showing good recovery since the 2020 pandemic restricted market and increased demand for quality office and carparks rents.
Property values in the industrial sector have also increased by 26.9% since the district's last rating valuation in 2020, with commercial and industrial land values also increasing by an average of 25% and 33% respectively.
There is limited number of rural properties in Invercargill City. Pastoral properties make up the majority with an average increase of 12% in capital values, compared to horticulture increase of 16%, and a 5% average increase for dairy.
The total rateable value for the district is now $16.7 billion, with the land value of those properties now valued at $9.1 billion.
Invercargill City Council Group Manager Finance and Assurance Patricia Christie said the increase in rating valuation could be seen as a positive because it represented the continued growth in the city.
"I want to assure the community that a change in property value does not result in the same percentage change in rates.
"There are a number of different factors that determine how the rates are set, and the total amount of rates we require to run the City doesn't change because property values change. Rating values are just one component of how rates are assessed."
Property owners will receive their new rating valuation by post or if they are signed up to Rates Online, they will receive them via email, from 25 October.
What are rating valuations?
Rating valuations are usually carried out on all New Zealand properties every three years to help local councils set rates for the following three-year period. They are not intended to be used for any other purpose, including raising finance with banks or as insurance valuations.
They reflect the likely selling price of a property at the effective revaluation date, which was 1 July 2023, and do not include chattels. Any changes in the market since that time will not be included in the new rating valuations, which often means that a sale price achieved today will be different to the new rating valuation.
Rating valuations are calculated using a highly complex and detailed process that utilises all relevant property sales from your area. A large number of properties have also been physically assessed, particularly those that have been issued building consents in the last three years.
The updated rating valuations are then independently audited by the Office of the Valuer General to ensure they meet rigorous quality standards, before the new rating valuations are confirmed and posted to property owners.
If owners do not agree with their rating valuation, they have a right to object through the objection process before 30 November 2023.
Residential housing value changes since 2020 revaluation levels: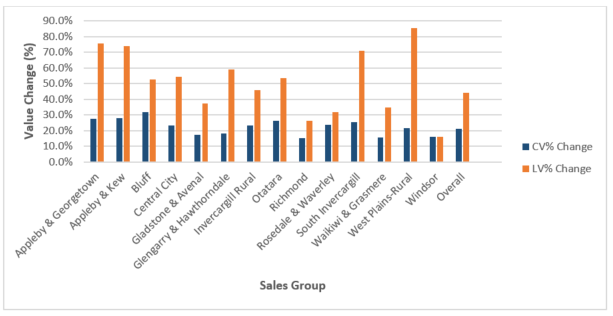 Commercial property value changes since 2020 revaluation levels: