The newly appointed Southland Museum and Art Gallery Board has met for the first time.
In August, seven people were confirmed as new members of the Board to independently oversee the museum collection.
They are David Hall-Jones, Lou Sanson, Jane Stanton, Dougal Austin, Teina Herzer, Rev Evelyn Cook and co-opted member Katie McRae.
Hall-Jones is a former Hong Kong solicitor and High Court Judge and currently owns Domaine Thomson Wines Ltd in Central Otago. He has a long family history in Southland back to Invercargill surveyor John Turnbull Thomson.
Sanson is the former Director General for the Department of Conservation and is now working in environmental governance and tourism, including land management for Rakiura Māori Land Trust.
Stanton is the founder of the Seriously Good Chocolate Company and Southern Pioneer Food Hub, and is also Director of the Bluff Distillery.
Austin (Kāti Māmoe, Kāi Tahu, Waitaha) is Senior Curator Matauranga Māori at Te Papa, and Trustee of Ngāi Tahu Māori Rock Art Trust.
Herzer is the Executive Director of the National Digital Forum. Prior to that, she was Digital Engagement Manager of the Museum of Transport and Technology in Auckland, and worked for the Auckland War Memorial Museum and at the Ministry for Culture and Heritage.
Rev Cook (Kāi Tahu, Kāti Māmoe, Waitaha) was appointed mana whenua representative for the Invercargill City Council in 2021, a position she has held since. She previously served on the Southland Museum and Art Gallery Trust Board. Rev Cook is also an executive member of the Waihōpai Rūnaka, a Kā Rūnaka representative at Emergency Management Southland, and was a member of the Museum Governance Group that formed in 2021.
McRae is the owner and Practice Manager of MSK Medical Imaging, a Board member of Active Southland and Heart Kids New Zealand, and previously practised commercial law at AWS Legal.
Council Chief Executive Michael Day said it was great to have now appointed new board members.
"Following on from a review in 2021 and 2022, we can now say we have appointed a fantastic new group of Board members for the Southland Museum and Art Gallery Trust.
"Now that we have shifted to a skills-based, independent Board, we are looking forward to growing the collection's access to the community, which will ensure more Southlanders get access to our shared heritage and stories."
The new independent Board will not be responsible for Project 1225, the museum rebuild, which is being led by Council, but will contribute to the project through the negotiated loan of collection items.
"The Board will ensure the safe relocation of the collection from the current site to Tisbury, as well as developing increased access to the collection, including digital access," Day said.
At their first meeting on 21 August, the members were formally welcomed to their new roles as Governors of the Southland Museum and Art Gallery collection with a pōwhiri at Te Rau Aroha Marae, then had a tour of the current museum and an overview of the collection as it is readied for relocation to the new storage facility at Tisbury.
Rev Cook was appointed interim Chair and a decision for a permanent Chair will be made at a later time.
In future meetings, the Board will also consider a new name for the Board to reflect their new role as guardians of the collection."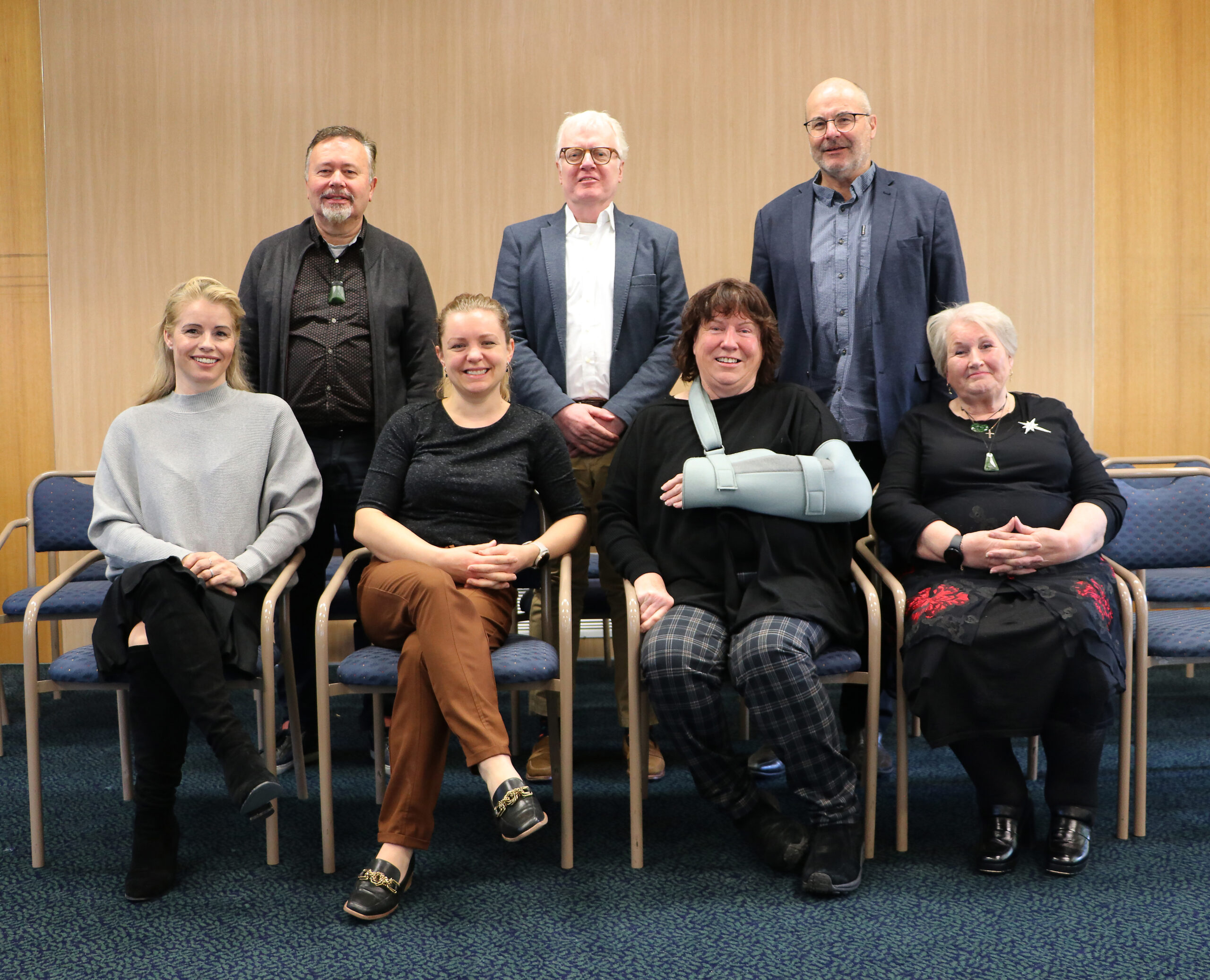 Southland Museum and Art Gallery Board members, back row: Dougal Austin, David Hall-Jones, Lou Sanson, and front row: Teina Herzer, Katie McRae, Jane Stanton, and Evelyn Cook.