Mayor Tim Shadbolt today opened the new Invercargill City Council-owned Business House at 20 Don Street.
The 3,500sq m  three-storey building sits in part on the former Todd's Auction House site which was a fixture in the city for more than 120 years.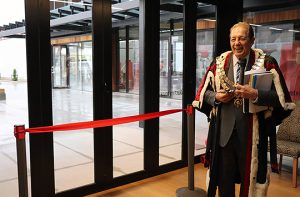 The Council bought the Todd's site in 2014 and land-banked it for future development because it was considered a strategic location.
McCulloch and Partners was the first business  to move into the building, followed by the Auction House cafe. The Southland Times reported that Craigs Investment Partners, Sakura Takeaways, Cruickshank Pryde, and Media Works would move in when the fit-out was completed.