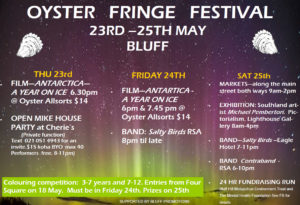 The annual Bluff Oyster & Food Festival is a nationally renowned event that draws massive crowds to Bluff each year.
Each year a huge percentage of the people who attend the Festival travel from all corners of New Zealand and beyond and Bluff comes alive with visitors several days before the event.
In acknowledging this Cherie Chapman of Bluff, proprietor of Oyster Allsorts, a quirky museum, café, cinema and tourist information centre in Bluff has developed a programme of events to offer visitors and locals alike plenty of activity in the town at Festival time. Cherie Chapman, working alongside some Bluff Promotions members, has created some new events as well as incorporating existing events that were already on the calendar and grouped them together as the Oyster Fringe Festival.
The Oyster Fringe Festival is not a part of the Oyster Festival but a separate programme designed to give people activity on the days leading up to and on the day of the event.
The programme begins on Thursday 23 May with a screening of the film, Antarctica – A Year On Ice at Oyster Allsorts 72 Gore Street at 6.30pm. Tickets are $14 each. Later in the evening the Open Mike House Party at Cherie's follows. This is a private function and to attend text 021 051 4943 for an invite. There is a $15 koha, byo and is limited to 40 people. Performers go free and the evening will run from 8-11pm.
The next day, Friday 24 May, sees two more screenings of Antarctica – A Year On Ice at Oyster Allsorts at 6pm and 7.45pm respectively.  Meanwhile at the Bluff RSA popular local band The Salty Birds will perform from 8pm till late.
Saturday 25 May is festival day and with the huge crowds in town for the Festival there will be plenty to do. There will be two markets in the town, one on Gore Street outside the former Club Hotel which backs onto the Festival Site while the other is also on Gore Street – next to Oyster Allsorts.
At the Lighthouse Gallery on Gore Street from 8am to 4pm, Southland artist Michael Pemberton has an exhibition entitled Pictorialism.
Into the evening after the Festival The Salty Birds play at the Eagle Hotel from 7pm to 11pm and ContraBand will be at the Bluff RSA from 6pm to 10pm. Meanwhile a 24 Hour Fundraising Run up, down and around Bluff Hill will be taking place from 12 noon on Saturday 25 May until 12 noon the following day with proceeds towards the Bluff Hill Motupohue Environment Trust and the Mental Health Foundation.
Prior to the week, from Saturday 18 May there will be a Kids Colouring Competition with entry forms available from Bluff Four Square Supermarket. Call in get your entry form and drop it back to the Supermarket by Friday 24 May. Prizewinners will be announced on 25 May.