Invercargill City Council has about 150 parks and reserves on over 3000 hectares of land, offering venues and facilities  for a wide range of  sporting and recreational activities.
The Council's Parks and Reserves staff won the Environmental Achievement Award at the Southland Community Environment Awards on 1 November 2017.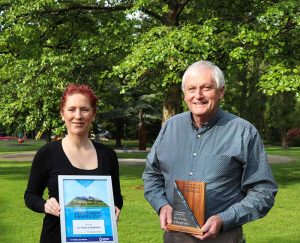 The award was made in recognition of the team's commitment to using both innovation and creativity  in their restoration projects. That included opening up drainage areas in Queens Park so the waterways can support birds and insects in the area.
Behind the scenes,  commitment to recycling saw the team successfully move from using coal in the nursery boiler to woodchips from tree-trimming.
The Parks staff also removed exotic forestry from Bluff Hill and used those trees as mulch for native seedlings which have been planted in their place.