One of our City's favourite and most photogenic spots is getting an upgrade, with work under way at the Feldwick Gates entranceway to Queens Park.
In June, Council's Infrastructural Services Committee agreed to give the gates and surrounding area a facelift, prompted by the need to remove some of the Marcrocarpas framing the gates.
A full design and landscaping plan for the entrance was commissioned, and a budget of $370,100 approved for the project.
Six trees were removed – three on either side of Feldwick Gates. Meanwhile, the redesign includes removal of the car parks in front of the gates which will allow for paving, lighting, new gardens and trees, and seating.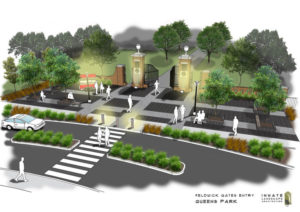 Work is expected to finish early in 2021. During that time there will be no public access through the gates. Those visiting Queens Park will find signs directing them to alternative routes to avoid the worksite. These are outlined below: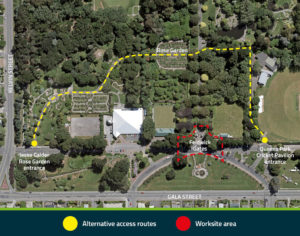 Follow along with the progress
To date six trees have been removed, and earthworks on the area is about to begin. Check out the time-lapse and photos below of the tree removal!
Be sure to follow us on Facebook and Instagram for progress updates on the project.