The Town Belt can be divided into four main sections:
Otepuni Gardens
Gala Street
Elles Road/Queens Drive
Appleby Park
Playgrounds
Otakaro Park
Otepuni Gardens
Russell Square
Otepuni Gardens
Occupiers, owners and regular users at Otepuni Gardens are as follows:
Age Concern Southland Inc.
Menzshed Invercargill Inc.
Pregnancy Help Inc.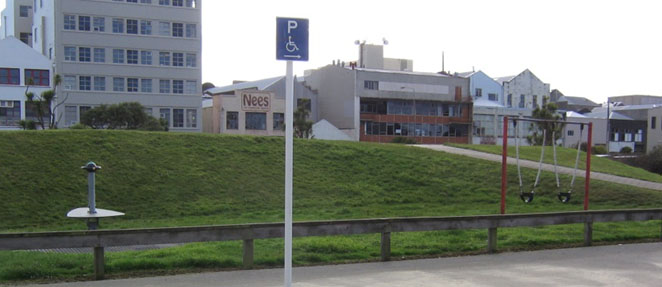 General Use
Otepuni Gardens is one of Invercargill's major public gardens.
Its location so close to the business district means that it provides a welcome amenity, a green and peaceful sanctuary, for those working and doing business there.
On a day to day basis the quiet sheltered green spaces of the Otepuni Gardens attract a wide range of visitors which include office workers, students and local residents.  Many people visit to make use of the green, quiet, open space which is screened off form the hustle and bustle of traffic from the nearby streets.
Play Equipment
The following play equipment is located in Block I of the Otepuni Gardens along Forth Street frontage:
Otepuni Walkway
This well formed track follows the Otepuni Creek between Clyde Street and Rockdale Road.  Most of this walkway follows the top of the floodbank, giving an elevated view of the surrounding city and neighbouring reserves.  Join the track at one of the many street crossings, or walk the entire length (3843m approximately).
Events
The Otepuni Gardens are a popular venue for weddings, picnics and concerts.  A band rotunda has power available and there is ample parking around the perimeter of the park.
Events in recent years include Shakespeare in the Park (Midsummer Night's Dream in 2001, Hamlet in 2011) and Cherrystock concerts (1996, 1998-2000).  Otepuni Gardens was the setting used for the first Shakespeare in the Park in 2001.
Gala Street Reserve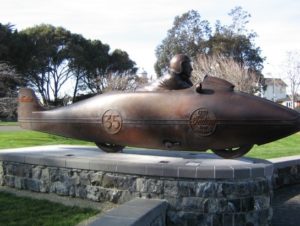 Gala Street Reserve is used mainly for recreation with limited used by active sports groups in the area opposite the cricket grounds.
On a day-to-day basis, the quiet, sheltered green spaces, particularly around the Cenotaph area, attract a wide range of people including office workers,
shoppers and local residents. Use of the Cenotaph area has been increasing with commemorations of various military events and increased public attendance at ANZAC Day commemorations.
Areas of the reserve are used as car parking for activities carried out in Queens Park.
Apart from the use for informal sports, walking, jogging and running, there is no main centre of active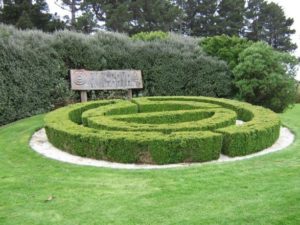 recreation of the reserve except for its use for side shows, circuses, fairs and other events such as gala days and Southland Santa Parades in the area east of the Jed Street intersection.  Promotional and fundraising events are also held on the reserve.
Major events such as the Surf to City and Tour of Southland have incorporated the reserve into their schedules as a start/finish venue. 
Cenotaph
The cenotaph is approximately 15.5 metres tall and 5 metres square at the base.  The structure is an unreinforced hollow structure with bluff Granite blocks set on the outside.
A dawn memorial service is held at the Cenotaph annually on ANZAC Day.
Elles Road/Queens Drive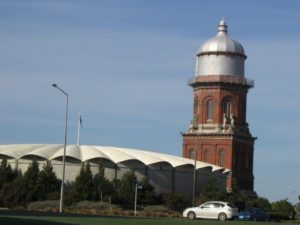 Occupiers, owners and regular users at Elles Road/Queens Drive are as follows:
Invercargill City Council Water Division.
Te Rangi Bowling Club.
Invercargill Middle School.
Southland District Rugby League.
General Use
The reserve is used extensively for active organised recreation and passive recreation pursuits including rugby, rugby league, bowls, walking, and

jogging .  It is also used by visitors as a thoroughfare to access the surrounding and dividing roads around the reserve.
It has been used for school cross country and athletics.
Previous events held there include Christmas in the Park.
Facilities:
Elles Road Skate Park
Elles Road Dog Park
Otakaro Park
Otakaro Park is located within Yarrow, Doon and Don Streets, and Queens Drive.
Play equipment includes climbers and frames, double swing and early childhood swing.
Russell Square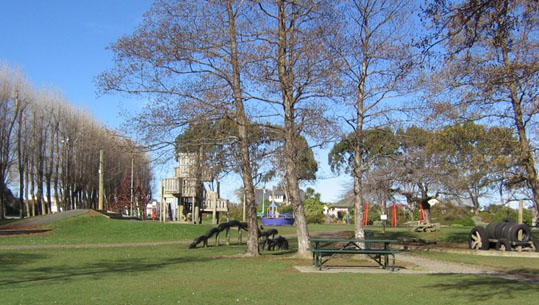 Russell Square is located within Balmoral Drive, Elles Road, Dalrymple Road and Ness Street.
It is one of the principal playground areas in South Invercargill.
Play Equipment includes climbing poles and platforms, boat, log bridge, play module, seesaw, slide, tyre equipment, roundabout, wooden beams and posts, climbing frames, carriage swing, basketball hoop, flying fox, double swing, infant swing and spacenet climber.
Appleby Park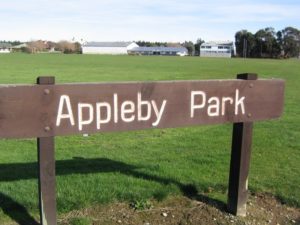 Occupiers, owners and regular users at Appleby Park are as follows:
Appleby Cricket Club.
Invercargill Rugby Football Club.
Southend Boxing and Fitness.
General Use
Appleby Park is used mainly for active organised recreation pursuits.
Some passive recreation does occur with people walking through the area but the majority of activities are active recreational type activities, informal sports and organised sports activities.
The area is used extensively for rugby, soccer and cricket.