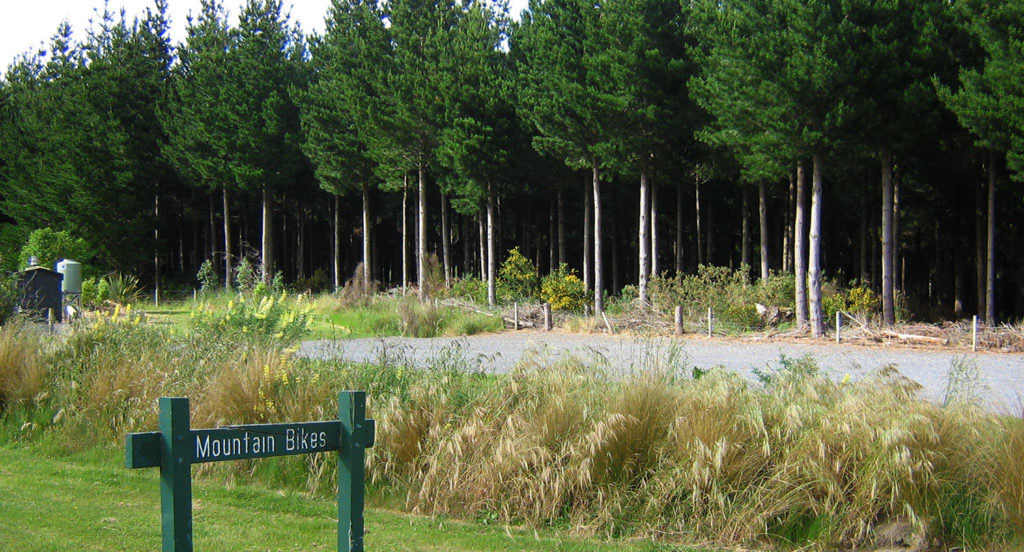 Sandy Point Domain offers important environmental and recreational resources, providing opportunities for picnicking, play, walking, biking, running and as an educational classroom.
The domain is 7km west of Invercargill. The Dunns Road Bridge over the Oreti River marks the entrance to the reserve. Directions to the various recreation facilities are signposted off Dunns Road and also displayed outside the Visitor Centre on Sandy Point Road.
An unstaffed facility provides informative displays on Sandy Point's human and natural history, as well as recreational information and location of clubs. The Visitor Centre is open on weekends and by arrangement with groups. Please contact the Parks Office for more information.
Visitor Centre
The Sandy Point Visitor Centre opened 9 December 1996.
Invercargill artist Cathy McFie produced the initial design for the centre. Conservationists Lloyd Esler, Paul Gay and Les Ryan played major roles in the development of the centre, freely providing their time and experience.
The visitor centre contains a series of displays and interpretive material covering Sandy Point Domain and the vegetation and wildlife found within the grounds. They tell the story of Sandy Point's human and natural history.
This facility is available for organised groups to gain a better understanding of the uniqueness of the coastal area of Sandy Point Domain.
The visitor centre is open most weekends and by arrangement with groups.
Toilets
Toilets are located in key locations throughout the domain and some are disabled accessible.
Location
The Domain is located within the Invercargill District, west of Invercargill City.
On its east, it is bounded by the lower reaches of the Oreti River and the New River Estuary, and on the West bounded by the waters of Foveaux Strait.
Access
Sandy Point Domain is seven kilometres from Invercargill, with the only road access being via Dunns Road. Boat access is possible from the New River Estuary, Oreti River or Foveaux Strait.
Clubs and activities
Recreational Leases
Georgetown Scouts
Invercargill Kart Club
Invercargill Pistol Club
Invercargill Rowing Club
Jellicoe Sea Scouts
Oreti Surf Lifesaving Club
Rakiura Rides
Rugby Southland Incorporated
Southern Paintball Club
Southland Airsoft Club
Southland Archery Club
Southland Astronomical Society
Southland Clay Target Club
Southland Landrover Club
Southland Motorcycle Club
Southland Pony Club
Southland Power Boat Club
Southland Rodeo Association
Southland Sports Car Club
Southland Stock-Car Drivers Association Inc
Waihopai Rowing Club
Water Ski and Runabout Club
Other recreational users
Birchwood Hunt Club
Invercargill Harriers
Southland Disc Golf
Southland District Rugby League
Southland Football Association
Southland German Shepherd Dog Club
Southland Mountain Bike Club – mountain biking
Southland Orienteering Club
Southland Sled Dog Association
Southland Triathlon and Multisport Club
Southland Harriers
St Pauls Harriers and Athletics Club
Dogs
Sandy Point Domain, excluding playgrounds, marked sports fields and the ponds and lagoons designated as wildlife habitats, is an area designated for dog exercise where dogs are permitted to be at large while under continuous surveillance and effective control.
Please refer to the dog bylaw for dogs on walking tracks.
A 13.5 km network of well-formed walking tracks makes it easy to explore Sandy Point on foot.
Walking Tracks
Kilmock Bush
Distance: 2380m
Time: 50 or 30 min return
Access: At Fosbender Park. Take a right off Dunns Road after the Oreti River Bridge
This gently undulating loop track starts from Fosbender Park and passes through a carpet of bush lily/astelia and hounds tongue fern/kowaowao, beneath gnarled totara trees.
Rover Track/Petries Track
Distance: 4490m
Time: 1 hour 15 min return (short walks brochure is different to website)
Access: Tracks start from the car park at the eastern end of McLennan's Flat or at the car park from Daffodil Bay.
Take the coastal Rover Track to Daffodil Bay and return via the open pine forest of Petrie's Track. The Rover track passes a lookout point and hugs the shoreline through regenerating native vegetation.
Daffodil Bay Loop Track
Distance: 3111m
Time: 1 hour 30 min return (short walks brochure is different to website)
Location: Daffodil Bay
This track combines a totara-matai forest with good estuary views. From the Daffodil Bay area take the coastal route to Hatches Hill lookout with a side trip to Noki Kaik Beach. Return to Daffodil Bay via the inland route.
Silver Lagoon
Distance: 1524m
Time: 50 min return (short walks brochure is different to website)
The Silver Lagoon is the hidden gem of Sandy Point, providing an important wildlife habitat for birds and other fauna. The track starts opposite the settlement at Coopers Creek and passes through an attractive remnant of native forest opening out to a forestry fire break.
The track to Silver Lagoon follows McShane's Track and returns the same way.
Dogs must be on a lead while on all formed walking tracks.
Playgrounds
Fosbender Park Playground
Location: the open space near the Kilmock Track, Fosbender Park
The original playground at Fosbender Park was constructed in 1972 by the Invercargill Lions Club as part of an ambitious plan to develop the area. It was replaced years later due to deterioration from the weather. A paddling pool also existed at that time and it was later filled in.
Play equipment:
swing
climbing frame
tyre swing
seesaw
Playground next to the Water Ski Club
A playground and paddling pool were originally constructed by the Water Ski Club in the 1960s and since then had become dated and the playground replaced. The paddling pool was filled in.
In 2007 the play equipment was upgraded by the Invercargill City Council Parks Division. Vegetation was planted and a car park defined to beautify the area
Play equipment:
two swing sets
play module
balance beam
flying fox
seesaw
roundabout
Refer to the Dog Bylaw/policy for dogs at Sandy Point including walking tracks
Map