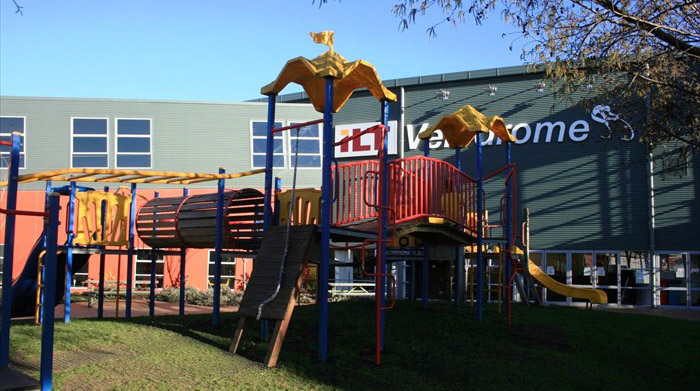 The Council recently purchased an area of land on the old Surrey Park Primary School site that adjoins Surrey Park. This land will be managed and maintained as part of Surrey Park. – 8 April 2015
Location
Surrey Park is located between Yarrow, Tay and Isabella Streets.
Access
Public access is off Yarrow, Tay, Isabella and Lithgow Streets.
Facilities
Toilets – link to public toilets
Athletics track
Stadium Southland
Velodrome
Grandstand
Playground
Car parking
Club buildings
Netball courts
Playing fields
Picnic tables
Playground
Surrey Park Playground is made up of a combination of the former Surrey Park School playground equipment and new equipment provided from the Parks and Reserves Division.
It is now a memorial on behalf of the children who attended Surrey Park School.
Location: beside stadium
Playground equipment
Play module for younger and older users with a variety of hanging, sliding and balancing features.
Sports facilities
3 rugby fields
3 soccer fields
4 softball areas
1 athletics track
Velodrome
Sports Stadium
Club Buildings
Sports Clubs and Organisations
Southland Indoor Leisure Centre Charitable Trust
Athletics Southland (Grandstand)
Southland Badminton Association
Southland Softball Association
Invercargill Netball Centre
Athletics Invercargill Incorporated
St Paul's Harrier & Athletic Club
Waihopai Association Football
Southland Society of Model Engineers
Pirates Old Boys Rugby Club
Eastside Baptist Church – Community Garden (use grounds only)
City League Cricket Club (use grounds only)
Queens Park Football (use grounds only)
Events and Bookings
Surrey Park draws in a lot of activity groups and spectators for gatherings and tournaments each year.
Many international, national and local tournaments are held at the stadium or club buildings and facilities on site.
School athletics are held annually at the athletics track.
There is car parking available for Surrey Park users.
Visit this page for our bookings
Refer to the Dog Bylaw/policy for dogs at Surrey Park
Map