The Invercargill City Council Parks and Reserves team won the Environmental Achievement Award at the Southland Community Environment Awards in Invercargill on Wednesday (1 November 2017).
The award was made in recognition of the Parks team's commitment to using both innovation and creativity  in their restoration projects. That included opening up drainage areas in Queens Park so the waterways can support birds and insects in the area.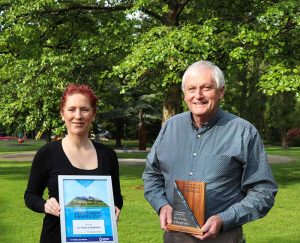 Behind the scenes,  commitment to recycling saw the team successfully move from using coal in the nursery boiler to woodchips from tree-trimming. The Parks staff also removed exotic forestry from Bluff Hill and cleverly used these trees as mulch for native seedlings which have been planted in the place of the exotic trees,
The award was sponsored by Real Journeys.
There were 32 nominees representing environmental action being undertaken in all corners of the region, by people from all walks of life. Results and  nominees by category:
Environmental action in the community (Sponsored by NZAS)
Bluff Hill/ Motupohue Environment Trust: Winner
Heddon Bush School: Commended
Winton Community Gardens: Commended
Environmental action in education (Sponsored by Milligans Seeds and the Department of Conservation)
Kindergartens South: Winner
Glenham School: Commended
Jellicoe Sea Scouts
Three Makarewa Bees
Environmental leadership in farming and land management (Sponsored by Wynn Williams)
Matt McKenzie: Winner
Colin and Debbie Hitchcock
Graeme and Jan Appleby
Individual environmental leadership or action (Sponsored by AON Insurance Brokers)
Phil Newbury: Winner
Brent McGearty
Hamish McMurdo
Janet Gregory
Robin Pagan
Ruth Dalley
Environmental innovation (Sponsored by the Invercargill Licensing Trust)
RDM Services Ltd: Winner
Bio Active Soils: Commended
Koha Kai Charitable Trust: Commended
Les Gibbs
Dairy Green, NIWA and Venture Southland (Glenarlea Farm)
Environmental leadership in business (Sponsored by ANZ bank)
Southland disAbility Enterprises:  Winner
Awarua Synergy
Fiordland Lobster Company
Invercargill Brewery
Environmental achievement (Sponsored by Real Journeys)
Invercargill City Council Parks and Reserves team: Winner
Invercargill Prison: Commended
Awarua Synergy
Wood Energy South (Venture Southland)
Councillors' Special Award (Sponsored by Environment Southland Councillors)
Graeme and Jan Appleby: Winner