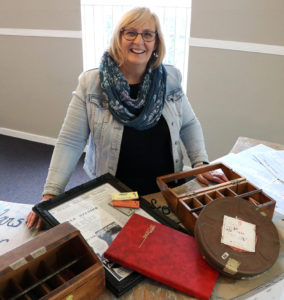 The Embassy Theatre building on Dee Street has a long and varied history since construction started in 1882.
For the last seven years it has been the home of the City Impact Church with Pastor Roberta Watson at the helm.
It seems to be the perfect match as Pastor Roberta has a passion for history and loves the 'old girl,' as she calls the building.
The theatre started life as a hotel, and was almost burnt down by a gentleman having a cigarette in the bath.
There was another incident years later when the curtains caught fire during a movie.
As a place of worship these days there is less fire but the building has retained its vintage feel with Pastor Roberta and her husband determined to retain its historic character.
"I love the legacy, I love history, so in some ways it's good to have life back in the old girl. Everything we do we try to keep in with the same feel. We don't want it to look modern or anything," Pastor Roberta said.
Pastor Roberta keeps all the interesting artefacts she finds around the building including a wooden box of old 1d tickets and metal candy tins from when it was a thriving movie theatre.
They have also held open days where the public can come and explore the theatre, including a display set up to show the historic movie items.
"When we did the open day I loved how people responded, they love the fact that you are keeping their history alive, they can bring their kids here and show them where they went to the movies."
As well as objects Pastor Roberta is also keen to collect an oral history of the building.
"The plan is to try and collect as much as we can and collect the oral history of it. During open days we had paper and pens lying around for people to write down their memories,"she said.
The Embassy was selected for Council funding as part of the City Centre Built Heritage Fund.
This provides funding to owners of priority heritage buildings for maintenance, protection, conservation and adaptive re-use projects.
The owner of The Embassy used the funding to replace windows, a water pipe, remove redundant pipes from the exterior and replace veranda roofing.
For more information on Heritage Funding click here.