The Long-term Plan outline Council's vision, community outcomes it aims to achieve, its work programme and budgets for the next 10 years.
Learn more about the Long-term Plan 2021–2031:
To know more about the consultation that we held, please see:
Curious about the previous long-term plans?
---
Long-term Plan 2021–2031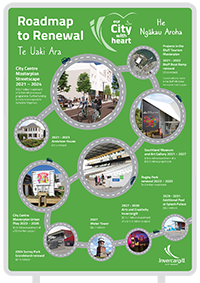 Council formally adopted the Long-term Plan 2021-2031 on Wednesday 30 June 2021.
Complete Document:
The document is also available in its component sections:
As a part of our long-term plan, the fees and charges, the Infrastructure Strategy and the Activity and Asset Management plans below come into force from Thursday 1 July 2021:
---
Our City With Heart – He Ngākau Aroha
Council's vision is to create a city with heart, both in our city centre and through collaboration across the community. Supporting the creation of a vibrant city centre has been our primary focus, along with reinvigorating the arts and culture we can all enjoy. We now have a plan in place for the museum which we believe provides a sustainable pathway forward for the future. We are investing in the future of our people and our city.
Waihōpai – To leave in good order
Council's mission over the next ten years is to leave the city in good order for the next generation. One of the translations of the Maori name for our City – Waihōpai – is to leave in good order.
---
Our strategy
The Roadmap to renewal forms the core of our strategy over the next ten years as we work to create a city with heart.
Our plan to address five strategic challenges facing the city:
Renewal of the city centre
Climate change
Changing community requirements for water outcomes
The need to maintain core infrastructure, invest for the future, while maintaining financial prudence and balancing the community's ability to pay.
Community outcomes
Enhance our city
We will know success when:
Invercargill's population is over 1.2% of the New Zealand total population.
New residents feel welcomed and embraced by Invercargill culture.
Healthy and active residents utilise space, including green space, throughout the City.
Invercargill's economy continues to grow and diversify.
Invercargill's business areas are bustling with people, activities and culture.
Preserve its Character
We will know success when:
Invercargill is celebrated for preserving its heritage character.
Ease of access throughout the City is maintained.
Our natural and existing points of difference are celebrated.
The building blocks, including water, sanitation and roading, for a safe, friendly city is provided for all members of the community.
Strong, collaborative leadership of the City is demonstrated.
Embrace Innovation and Change
Invercargill's culture is embraced through community projects.
The development of future industry is encouraged.
Technology is utilised in both existing and new city services.
Residents of, as well as visitors to, Invercargill give positive feedback and have great experiences.
Invercargill has the 'wow factor' with the right facilities and events to enjoy.
---
Our roadmap to renewal – How are we doing so far?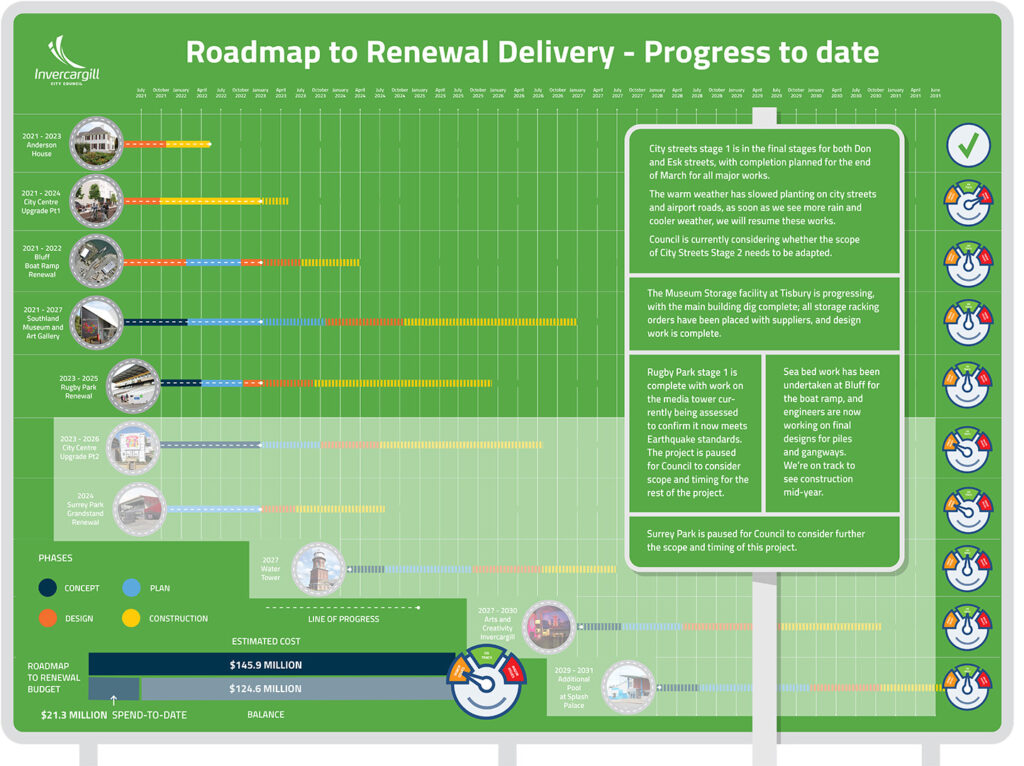 ---
To find out more about the consultation we held, please see:

Previous Long-term Plans