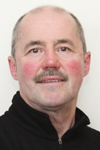 The Bluff Community Board will hold a public meeting next week over Police moves to cut the number of officers based in the town from three to one.
"The final decision on policing in the town is due to be made  very soon so it is important for those who have a view on the move to attend and make their thoughts known," Board chairman Raymond Fife said. Police representatives and Invercargill MP Sarah Dowie would be invited to attend.
The meeting will be held in the Bluff Town Hall at 7pm on Monday, February 9.