The first Food Truck Friday has been a success with estimates of up to 500 members of the public enjoying the event and many vendors selling out early because of the demand.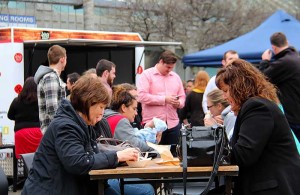 Kari Graber, the Council's City Centre Co-ordinator, said the feedback from patrons and vendors about the Wachner Place event today (23 September 2016) had been very positive.
"The space was filled with vibrant crowds enjoying an afternoon lunch outside.
"Vendors said the sales were fantastic with long queues at peak times," she said. Some ran out of their most popular foods and others ran out completely. It's so great to see people out enjoying the city and the space."
"The point was to showcase some of the great spaces the city centre has to offer and encourage people to use them and have a walk around to remember what a cool town we live in. It's also great that we have been able to support small local businesses and offer something new to residents and visitors," Ms Graber said.
Today's event was the first of five Food Truck Fridays (the others will be on 30 September, 7 October, 14 October and 21 October).
NOTE: The launch event featured seven food trucks and stalls, and new ones will be introduced to provide variety. People who wish to become vendors should contact Ms Graber on (03) 211 8393.