The new Deputy Mayor of Invercargill is Councillor Rebecca Amundsen.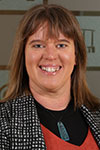 She was appointed to the position by Mayor Tim Shadbolt at tonight's meeting of the Invercargill City Council (23 May 2017).
Councillor Darren Ludlow, the former Deputy Mayor, resigned from the position in a letter dated 26 April 2017, effective from today's date.