The Invercargill City Council this month launches an event to help the city centre to shine!
Business owners, volunteers and residents are being encouraged to get involved in the first Rev Up of the inner-city. It will be held on the weekend of 27-28 January, just in time to show the world how great the city centre is before visitors arrive for the Burt Munro Challenge.
Keen to volunteer for the Rev Up? Click here to register your interest.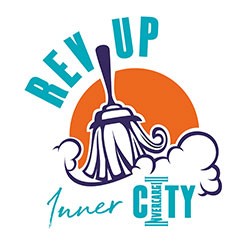 The purpose of Rev Up is to tidy the city centre, and to make sure our buildings look spectacular from the verandahs down. Cleaning will include windows, footpaths and shopfronts, touching up paint, removing old advertising posters and litter, and freshening up some alley ways. Plantings will be added o some areas to bring vibrancy.
Updates
Leading up to the Rev Up there will be several open days at the former ASB Bank building on Esk Street, which has been transformed into Rev Up Headquarters. Dates for pop-up shops at Rev Up  HQ (all from 11.30am to 1.30pm):
14 December
11 January 2018
18 January 2018
Here's the link for volunteers . If you would like to know more about how you can help with the clean-up contact City Centre Co-ordinator Kari Graber by email (kari.graber@icc.govt.nz) or phone (03) 211 8393.
"It's time for us all to work together to give the community and visitors a beautiful place where they will want to spend their time and money," Ms Graber said. "This is something I hope all of Invercargill will get behind to support. It's time for us to start showing more pride in our city centre."
Letters have been se nt to all businesses in the area, asking owners to:
Identify what help they needed to help beautify their premises
Commit to the Rev Up and maintain the standards achieved
Consider if they could volunteer their own time to help out
Ms Graber said several businesses had already responded in support of the event including Louies Café and Tapas Bar owner Mana Davis and Shoe Clinic owner Ben Fokkens. They planned to make improvements to their verandahs and shop fronts.
Deputy Mayor Rebecca Amundsen said she would be working with Ms Graber to ensure Rev Up was successful.
"The Rev Up is a great way for the community to reconnect with the inner city and show their support for inner city retailers. The event is us as a city putting our best foot forward, together," Cr Amundsen said. "I would like to encourage people to get involved. Even if you only have a couple of hours over the weekend, every little bit helps.
"I am really grateful to the businesses who have already indicated their support and involvement, this is a great endorsement for the Rev Up. And also those groups and churches who have already put themselves forward as volunteers – they are setting a great example," Cr Amundsen said. "We hope to build on the 2018 event by doing more and bigger projects in the years to come."
Event organisers are looking for people with skills such as retired builders, painters and others who would be able to help run and advise working groups on the day.