WasteNet will be seeking 'recycling pledges' from the public in Esk Street tomorrow (Friday, 20 November 2015) as part of its iRecycle campaign during Southland Recycle Week.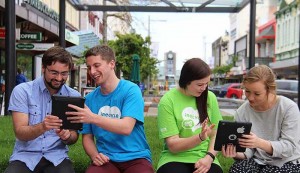 Senior Waste Officer Donna Peterson said from 11.45am to 12:45pm.staff would be seeking commitments to recycle. In exchange, people would be entered in a prize draw for an iPad Mini, waste minimisation hamper, iRecycle T-shirts and other spot prizes.
"Southland Recycle Week is an opportunity to celebrate recycling in Southland," Ms Peterson said. "We want people to learn about what can be recycled, take actions to recycle more and share their knowledge with family and friends."
To get involved in Southland Recycle Week simply visit wastenet.org.nz or the iRecycle Facebook page.