Warning for motorcyclists in and around Invercargill this weekend for the 11th annual Burt Munro Challenge: be ready to slow down on areas of loose chip.
NZ Transport Agency Journey Manager Lee Wright also advises: "Road users should be ready for extra numbers of motorcyclists on the highways around the South Island from Thursday through to the end of the weekend and early next week.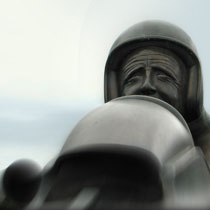 "Motorcyclists should be aware the Transport Agency's and local councils' summer repair and resealing season is underway, which means the riders need to watch for loose chip and reduce speed accordingly."
"Please, take extra care on your way to and from Invercargill – we want everyone to get to this event safe and well and return home the same way," Ms Wright said.
Some motorcyclists will take State Highway 6 down the West Coast and others will travel through the Mackenzie and the inland routes. All road users should be prepared to increase following distances and slow down around motorcyclists.
Related websites:
Official Burt Munro Challenge website
NZ Transport Agency