Signs promoting Council's Smokefree Policy for the CBD are popping up in the inner-city.
The Smokefree Areas Policy was unanimously passed at the Invercargill City Council meeting on 7 November 2017. The policy makes the public areas within the boundary of Tay, Spey, Deveron and Dee Streets (including Wachner Place) smokefree. Smoking, for the purpose of the policy, includes e-cigarettes and vaporisers.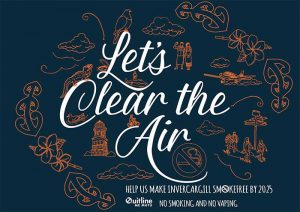 Since then, representatives from Council, Smokefree Murihiku, Public Health South, WellSouth, the Cancer Society, Healthy Families, and the Invercargill Youth Council have been developing signs for the inner-city advising there is to be no smoking.
City Centre Co-ordinator Kari Graber said the signs were a positive way of letting people know smoking and vaping is not allowed in our CBD.
"We didn't want the signs to be aggressive and in your face," she said. "They're artistic and appealing, but assertive."
Large metal signs have been put up in Wachner Place, which are movable in case of any future development, while the back of a bus also carries the new signage, Ms Graber said. Some of the signs  feature Te Reo Maori as well.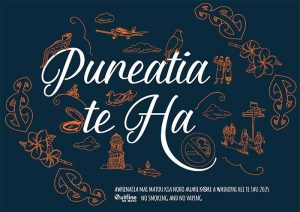 "We will also be providing signs on request to businesses which perhaps have a particular issue with smoking outside their buildings. That way they have a tool to let people know there is no smoking."
Another great use for the signs came from Public Health South, which will provide coasters with the sign design to all businesses in the CBD with outdoor tables, Ms Graber said.
While the Smokefree Areas Policy is a policy and cannot be legally enforced, it is intended to help denormalise smoking to children. Smokers who work in the CBD are able to smoke behind their building so long as they are out of the public eye. Ms Graber said if businesses required ashtrays for their employees, they could contact Council.
Should the Smokefree policy work well it will be reviewed in a year and could be extended to other areas of the city.